DigiLock Sola 3 keypad and RFID locks
---
Sola 3 keypad lock from DigiLock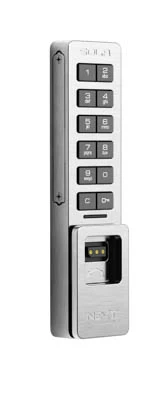 Click to enlarge
×

Delivery

Delivery Information

The approximate lead time is 15 Days.

Delivery to Mainland UK only, without any restrictions.

Our delivery times are; Monday - Friday 8am to 5pm.

We will deliver using the most economical method, using either our own vehicles or a carrier.

Goods may be palletised and delivered on an articulated vehicle.

The deliveries are kerb side only, you will need to arrange to unload the vehicle.

If there are any delivery restrictions / specific dates / times / dedicated deliveries, or FORS Registered deliveries; please contact the sales department as there may be an additional cost.
Features
Specification

Specification sheet


Standard Keypad or RFID

Sola locks operate with an alphanumeric keypad interface. Key managed locks also contain a key slot to operate locks with an ADA compliant User Key.

Battery

Power | 2 CR2450 or 4 AA Batteries

Providing battery life of 180,000 cycles for Keypad and 54,000 cycles for RFID.

Body style

Finish | Brushed Nickel : Black

Standard finishes of brushed nickel and black. Custom finishes are available upon request.

Body | Vertical : Horizontal

Available in vertical and horizontal body styles.

Locking Options

Manual Locking

Standard flat, offset, and lifter cam for installation on cabinet doors, drawers, lockers, enclosures, personal storage and more.

Auto Relocking

Auto relocking spring latch for assigned use applications.
---