Next Day Staff Lockers
---
Hero fast delivery lockers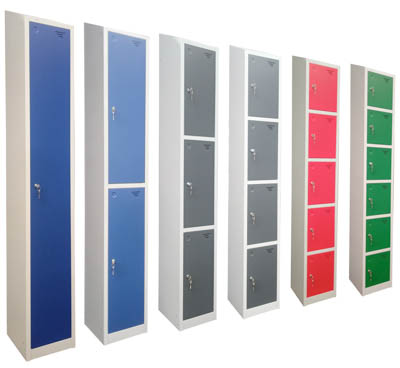 Click to enlarge
×

Delivery

Delivery Information

The approximate lead time for 300mm and 450mm deep lockers is 3-5 working days.

Delivery to Mainland UK only, without any restrictions.

Our delivery times are; Monday to Friday 8am to 5pm.

We will deliver using the most economical method, either using our own vehicles or a carrier.

Goods may be palletised and delivered on an articulate vehicle. The deliveries are kerb side only, so you would need to arrange to unload the vehicle.

If there are any delivery restrictions / specific dates / times / dedicated deliveries, or FORS Registered deliveries; please contact the sales department as there may be an additional cost.
Features

Next Day Staff Lockers are the perfect solution for increasing security in your office, school or place of work. Provided with sloping tops to keep locker rooms clean, tidy and sanitary

Hero lockers 5 year warranty

These lockers come with from one to six sturdy compartments depending on your requirements; a single-door locker is ideal for holding more items and can even be used for storing cleaning equipment. Multi-compartment locker means people can store their valuables securely, whilst preventing lockers taking up every available space.

All Hero lockers are delivered fully assembled, with sloping tops to prevent anything being hidden above. Crafted from strong steel, you can rest assured that your goods will be safe inside.

Our lockers are supplied with a coat hook. This makes them perfect for storing coats and jackets safe and keeping clutter away from your staff room

The lockers are supplied with an anti-bacterial paint finish, Grey Carcass and a choice between six smart looking colour options for the door, light grey, red, blue, dark grey, yellow and green

Locker Height: 1950mm (including sloping top)
Locker Width: 300mm
Locker Depth: 300mm/450mm
Available in 1 - 6 door versions.
Available with either a key/cam lock (2 keys) or Hasp to take Padlock
Our camlock, it is a high security lock - Powerful 1 billion combination as standard, avoiding duplicate keys and minimising theft
The lockers are manufactured from mild steel 0.9mm thick reinforced doors and a 0.7mm thick carcass. Hero lockers have a smooth clean finish with no rivets and includes Heroshield anti-bacterial paint
Specification

FREE shipping UK mainland

Next Day Staff Lockers

Specification

Width (left-right): 300mm
Height: 1950mm
Depth (front-back): 300mm & 450mm
Sloping top
Material: Steel
Lock Type: key lock with 2 keys

A Very Hygienic Locker

Next Day Staff Lockers lockers are ideal for industries that specialise in food or medicine.

The doors are coated in anti-bacterial powder to prevent the spread of bacteria and fungi.

For increased ventilation, the doors are made with slats known as louvres at the bottom; This improved air flow helps remove odours, making these lockers perfect for businesses that handle food.

Extra Locker Strength

With a staff locker from Total Locker Service, you can feel safe knowing your personal belongings are stored securely.
Locker Keys
Express Line Items
---