Workplace Lockers Industrial Lockers Staff Lockers tool lockers
---
Lockers are a perfect way to increase security for staff and visitors in a business or public service location. Our workplace lockers help you organise.
Whether that means storing substances according to COSHH regulations, giving employees somewhere to keep their workwear or police lockers for securely storing uniforms and radios, quality lockers bring organisation to day-to-day work.
Our extensive range of industrial and work lockers are available in a wide range of sizes and styles, with something for every workplace. Workwear Lockers
In any environment, workplace changing rooms are notoriously disorganised. Our work lockers have been developed to bring structure and management to your space.
Choose from divided and welled designs which are perfect for hanging up uniforms and PPE, in a range of different specifications.
Clean and dirty lockers give users the opportunity to separate uniforms to be laundered. Divided twin lockers give employees full-length space for hanging clothes up, while their narrower width maximises the number of people who can use each space.
Alternatively, double door designs with various shelving options are ideal for larger items.
Each robust workwear locker has been made from sturdy steel, and can be safely secured to the wall or neighbouring lockers.
Our police lockers have been developed in conjunction with officers, with allocated space for everything from stab vests to riot helmets, and even small charging lockers for radios.
---
Workplace Lockers
---
---
---
---
---
Budget Metal Lockers
---
The metal lockers are supplied as standard with cam locks with keys or swivel hasp locks to take a padlock. Most locking options are available with an additional premium including coin locks combination locks electronic combination locks coin collect locks RFID and much more.
Lead Time 30 Working Days
---
PhoneMinder Lockers
---
Phone charging Mini Minder personal effects lockers are ideal for storing personal items such as wallets mobile phones and other small items.
Lead Time 30 Working Days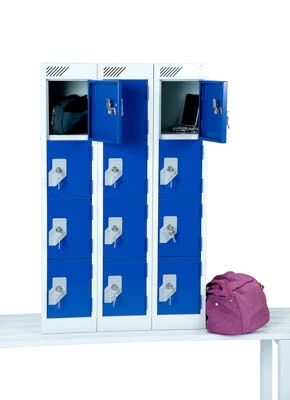 ---
Tool Charging Lockers
---
Tool charging lockers are designed to safely store and charge cordless hand tool batteries in a safe ventilated environment. We produce lockers with smaller compartments for charging date collection devices cameras mobile phones and radios. The product is fully CE marked and each compartment has a standard 3-pin UK socket.
Lead Time 30 Working Days
---
Link Postal Lockers
---
Our Postal Lockers are a simple yet perfect way to ensure paper communications are organised and secure for designated users.
Lead Time 18 Days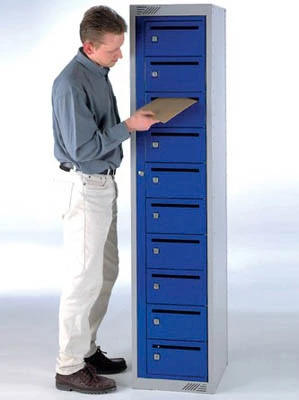 ---
Probe 1 - 6 Door Lockers
---
Each Probe Locker features as standard an integral air vent system a micro sprung disc lock 5 knuckle hinges welded front frame & internal door strengthens.
Lead Time 20 Working Days

---
Clean and Dirty Divided Locker
---
Keeping clean garments and soiled work overalls separate can often be a problem. The Clean and Dirty Divided Locker solves this by providing a centre partition with a double coat hook to either side.
Lead Time 20 Working Days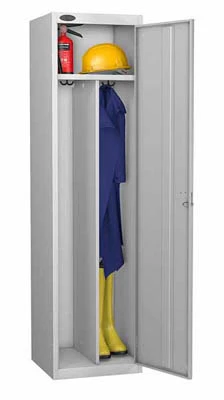 ---
Two Person Twin Locker
---
Provides two sections per user with a common key to fit both. One 180mm high full width compartment at the top of the locker and a vertical compartment fitted with a double coat hook.
Lead Time 20 Working Days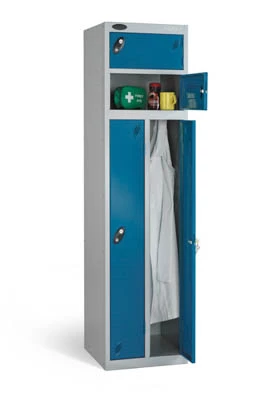 ---
Probe Z Locker
---
Probe Z lockers are the full-length storage solution designed to be used by two people. This compact storage solution makes the most; possible use of the available space.
Lead Time 20 Working Days
---
© 2017 Total Locker Service (Safe Secure Locker Services Ltd)
Unit 3, Menta - The Vision Centre, 5 Eastern Way
Bury St Edmunds, IP32 7AB - 01284 749211
Reg. Co. 06467889 | | VAT Number: 928 535204