Mini Vault 3 ideal for till drawers
---
Mini Vault 3 ideal for till drawers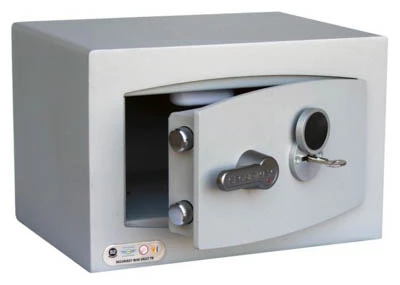 Click to enlarge
×

Delivery

Delivery Information

The approximate lead time is 5 Working Days.

Delivery to Mainland UK only, without any restrictions.

Our delivery times are; Monday - Friday 8am to 5pm.

We will deliver using the most economical method, using either our own vehicles or a carrier.

Goods may be palletised and delivered on an articulated vehicle.

The deliveries are kerb side only, you will need to arrange to unload the vehicle.

If there are any delivery restrictions / specific dates / times / dedicated deliveries, or FORS Registered deliveries; please contact the sales department as there may be an additional cost.
Features

Vault will take a cash box

Mini Vaults are suitable for the safe keeping of up to £3,000 cash or £30,000 valuables; these safes are ideal for both residential and commercial use.

The 8mm thick laser cut door has twin locking bolts and is mounted on concealed hinges to easily withstand a prying or chisel attack.

For flexibility and convenience the safes are available with key lock, EDL electronic keypad or Primor electronic keypad for additional functionality.

All models have felt lined interior walls, a thick foam base pad and feature a motion sensitive light.

The two larger sizes include jewellery shelves to help protect valuables from damage; These are adjustable at 12mm intervals or completely removable.

Whilst the manufacturing techniques used provide a robust unit for domestic and commercial applications, its internal fittings are those you would expect to protect delicate valuable, such as watches, jewellery and electronic tablets.

This protection is achieved by utilising an anti-bludgeon laser cut door (to prevent prying and chisel attack)mounted on concealed hinges and hardened steel plates to protect all vulnerable areas.
Specification

Specification sheet


£3,000 overnight cash cover (£30,000 valuables)
4mm Solid steel electrically welded body
8mm anti-bludgeon door fitted with VdS Class 1 double bitted safe lock as standard
Chrome plated bolt cups
Soft foam insert protects valuables from damage
Fully lined interior
Adjustable jewellery shelf included
Motion sensitive Interior light included in all models
Suitable for rear or floor fixing ? Bolts supplied
Colour - Metallic Dark Grey RAL7001
Mini Vault Silver
High Security Safes
Mini Vault Gold
---