Mini Vault 3 ideal for till drawers
---
Mini Vault 3 ideal for till drawers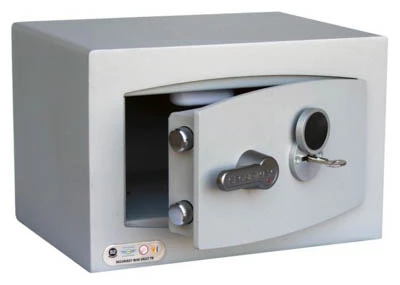 Click to enlarge
×

Delivery

Delivery Information

The approximate lead time is 5 Working Days.

Delivery to Mainland UK only, without any restrictions.

Our delivery times are; Monday - Friday 8am to 5pm.

We will deliver using the most economical method, using either our own vehicles or a carrier.

Goods may be palletised and delivered on an articulated vehicle.

The deliveries are kerb side only, you will need to arrange to unload the vehicle.

If there are any delivery restrictions / specific dates / times / dedicated deliveries, or FORS Registered deliveries; please contact the sales department as there may be an additional cost.
Features

Vault will take a cash box

Mini Vaults are suitable for the safe keeping of up to £3,000 cash or £30,000 valuables; these safes are ideal for both residential and commercial use.

The 8mm thick laser cut door has twin locking bolts and is mounted on concealed hinges to easily withstand a prying or chisel attack.

For flexibility and convenience the safes are available with key lock, EDL electronic keypad or Primor electronic keypad for additional functionality.

All models have felt lined interior walls, a thick foam base pad and feature a motion sensitive light.

The two larger sizes include jewellery shelves to help protect valuables from damage; These are adjustable at 12mm intervals or completely removable.

Whilst the manufacturing techniques used provide a robust unit for domestic and commercial applications, its internal fittings are those you would expect to protect delicate valuable, such as watches, jewellery and electronic tablets.

This protection is achieved by utilising an anti-bludgeon laser cut door (to prevent prying and chisel attack)mounted on concealed hinges and hardened steel plates to protect all vulnerable areas.

Frequently asked questions about Mini Vault 3 ideal for till drawers

What is a Mini Vault 3?

A Mini Vault 3 is a type of small safe that is commonly used for storing cash, documents, and other valuables. Due to its compact size, it is often considered ideal for placement in commercial environments with till drawers or cash registers. It is designed to offer a certain level of security against unauthorized access.

What is the weight of the Mini Vault 3?

The weight of a Mini Vault 3 can vary based on its construction materials and any additional features. A typical weight range might be from 20 to 50 kilograms.

What materials are used in construction?

Common materials used for the construction of a Mini Vault 3 safe include steel for the body and door, with various thicknesses depending on the level of security required. Some might have additional layers of material for fire resistance or to deter drilling attacks.

How is it secured?

The locking mechanisms can vary, but they commonly include either a key lock, combination dial, or electronic keypad. Some models may offer biometric options like fingerprint recognition.

Can it be bolted down?

Most Mini Vault 3 safes come with pre-drilled holes in the base and/or rear wall to allow for secure bolting to a floor or wall. Bolting down the safe is generally recommended for added security.

What is the cash rating?

The cash rating of a safe gives an indication of the level of security it offers, often determined by factors like the thickness of the steel, the complexity of the lock, and the general build quality. Cash ratings can vary widely, so it is essential to check this based on your specific needs.

Is it fire-resistant?

Fire resistance is not a standard feature for all Mini Vault 3 safes, but some models are designed with materials that provide a certain level of fire protection. Always check the product specifications to determine if a particular model is fire-resistant and to what extent.

What maintenance is required?

Routine maintenance might include changing the batteries if it has an electronic lock, periodic lubrication of mechanical parts, and regular inspections to ensure it is in good working condition.

How do I reset the combination or code?

The procedure for resetting the combination or code will depend on the specific make and model of the safe. Refer to the user manual or consult the manufacturer for instructions.
Specification

Specification sheet


£3,000 overnight cash cover (£30,000 valuables)
4mm Solid steel electrically welded body
8mm anti-bludgeon door fitted with VdS Class 1 double bitted safe lock as standard
Chrome plated bolt cups
Soft foam insert protects valuables from damage
Fully lined interior
Adjustable jewellery shelf included
Motion sensitive Interior light included in all models
Suitable for rear or floor fixing ? Bolts supplied
Colour - Metallic Dark Grey RAL7001
Mini Vault Silver
High Security Safes
Mini Vault Gold
---