Lockers for Storing Golf Clubs, Steel Lockers for Golf Clubs
---
Golf Lockers designed to suit the individual needs of golf club members. Customers can choose which locker type will best suit their club and can even choose bespoke sizes and optional extras.
Metal golf lockers are a value solution to golf club storage as the lockers are strong and tough easy to maintain and if one should get damaged beyond repair our golf lockers are simple to replace.
Our Golf Lockersare supplied in a wide range of door and carcase colours with standard locking options of swivel hasp locks to take padlocks or keyed locks supplied with 2 keys each.
All our keyed locks are fully mastered so administrating the lockers is simple.
---
GOLF RANGE: cost effective steel locker solutions. 1275mm (4ft 2in)high
---
Golf Club Lockers
---
Designed to accommodate golf bags and clubs. Can be stacked on top of the Classic golf locker when space is at a premium.
Lead Time 30 Working Days
---
Personal Golf Lockers
---
Golf foursome has four equally sized compartments. Designed for smaller storage requirements.
Lead Time 30 Working Days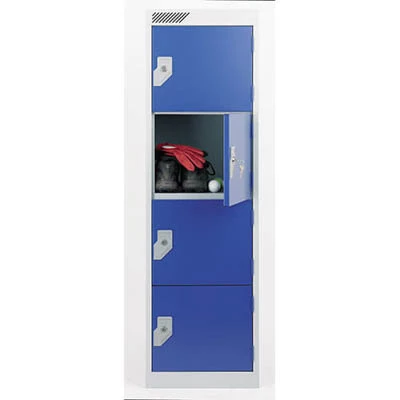 ---
Golf Pro Lockers
---
Fitted with a shelf unit. Principally designed for the storage of clothing.
Lead Time 30 Working Days
---
Golf Classic Lockers
---
These lockers are designed to store golf bags. Fitted with an integral seating unit.
Lead Time 30 Working Days
---
© 2017 Total Locker Service (Safe Secure Locker Services Ltd)
Unit 3, Menta - The Vision Centre, 5 Eastern Way
Bury St Edmunds, IP32 7AB - 01284 749211
Reg. Co. 06467889 | | VAT Number: 928 535204