Heated Lockers For Drying Clothes
---
Heated Clothes Drying Lockers, Heated Lockers For Drying Clothes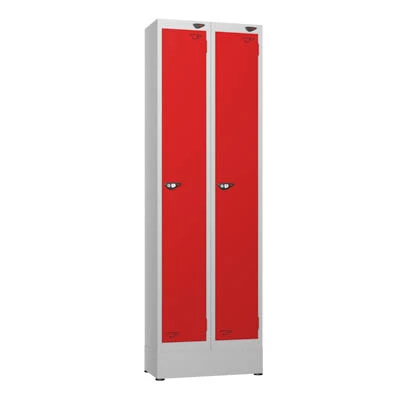 Click to enlarge
×

Delivery

Delivery Information

The approximate lead time is 20 Working Days.

Delivery to Mainland UK only, without any restrictions.

Our delivery times are; Monday - Friday 8am to 5pm.

We will deliver using the most economical method, using either our own vehicles or a carrier.

Goods may be palletised and delivered on an articulated vehicle.

The deliveries are kerb side only, you will need to arrange to unload the vehicle.

If there are any delivery restrictions / specific dates / times / dedicated deliveries, or FORS Registered deliveries; please contact the sales department as there may be an additional cost.
Features

Heated Lockers

Drying lockers are ideal for cyclists, staff working outside, or where staff benefit from there clothes being dried while stored in a locker.

Available in rows of 1, 2, 3, 4, 5 or 6 they are constructed with a perforated base and come with a skirted locker stand and heating element.

The lockers sit on top of a 175 mm Steel Clad Plinth which has the rear legs inset to allow the locker to be pushed and secured to a wall avoiding any skirting boards.

Standing at 1950mm High (Including plinth) x 300mm Wide x 450mm Deep; other sizes and locker types are available.

Heated lockers have a Full length door as standard, lockers with 2 doors are also available.

Full-length lockers have a shelf, hanging rail and coat hooks
2 door lockers have a hanging rail and coat hooks.

Single door with the option of a Cam Lock (two keys) or Hasp Lock to take a padlock; Other locks available including Coin locking and 4 digit combination locks including Electronic locks that allow multiply users to use the locker.

An Eco Friendly Tube Heater provides the Heat for the locker rated at 60W per 300mm. Tube heater allows warm air to rise through the perforated base allowing warm air to circulate within the locker.

The Tube Heater can be plugged into a 3 pin power socket or wired into a fused switch.

Twin Tube heaters are available for faster drying times and can run off a single power supply.

Doors are available in your choice of six powder colours: Ice Grey, Royale Blue, Skye Blue, Forest Green, Cherry Red and Yellow.

Locker carcase, stand and stand skirt are powder coated Light Grey.

We can add extras such as Sloping tops.
Specification

Specification sheet
Colour Chart


Drying Clothes Drying Lockers

One Heated locker mounted on a skirted locker stand

---

1950mm High x 300mm wide x 450mm deep

Hanging rail and coat hooks, top shelf, perforated locker base

Skirted locker stand to accommodate 1 lockers

Complete with electric heating element.

---

Two Drying Lockers mounted on a skirted locker stand

---

1950mm High x 300mm wide x 450mm deep

Hanging rail and coat hooks, top shelf, perforated locker base

Skirted locker stand to accommodate 2 lockers

Complete with electric heating element.

---

Three Drying Lockers mounted on a skirted locker stand

---

1950mm High x 300mm wide x 450mm deep

Hanging rail and coat hooks, top shelf, perforated locker base

Skirted locker stand to accommodate 3 lockers

Complete with electric heating element.

---

Four Drying Lockers mounted on a skirted locker stand

---

1950mm High x 300mm wide x 450mm deep

Hanging rail and coat hooks, top shelf, perforated locker base

Skirted locker stand to accommodate 4 lockers

Complete with electric heating element.

---

Five Heated Lockers mounted on a skirted locker stand

---

1950mm High x 300mm wide x 450mm deep

Hanging rail and coat hooks, top shelf, perforated locker base

Skirted locker stand to accommodate 5 lockers

Complete with electric heating element.

---

Six Heated Lockers mounted on a skirted locker stand

---

1950mm High x 300mm wide x 450mm deep

Hanging rail and coat hooks, top shelf, perforated locker base

Skirted locker stand to accommodate 6 lockers

Complete with electric heating element.

---

Workplace Lockers

How much does it cost to run a tube heater?

How much does it cost to run a tube heater?

The tube heater uses 60w/h per foot; 33.2p/kWh is the governments stated average unit price for electricitiy. divide your tarrif by the energy used to solve

Answer Link
---