Total Locker Service - About Us
---
Our people
The Total Locker Service team consists of 9 enthusiastic employees, each bringing different skill sets to our vibrant business.
We're a dynamic group that come from a range of age groups and backgrounds, but together we have a wealth of experience at supplying storage lockers and other shelving and racking products.
Our people are highly responsive, both to customer demands and wider business challenges.
One of our main team goals is to deliver excellent, efficient and friendly customer service.
---
Manufacturing
Having had key design influence in the locker sector, we have applied our skills to developing new products and providing in house manufacturing of essential parts, we have pioneered the way in providing unique solutions to problems faced across several industries.
We have Several products that we manufacture in house including: wriststraps, signage, Keys, 3d print services and will happy to prototype and manufacture a bespoke solution to your requirements
Locker Suppliers
As experts in this industry, we pride ourselves on being able to recommend the right storage solution for your needs.
We supply a range of lockers to various businesses and organisations.
Companies often need storage lockers for their staff; school, university and college students require storage areas for their books and other equipment; gyms, swimming pools and other leisure activity establishments require a secure place for their customers to leave their possessions.
We have products to satisfy each of these scenarios and many more.
We don't just limit ourselves to selling lockers though; our full product range incorporates all sorts of security and storage solutions.
We also provide secure cabinets, bike racks and shelters, and various shelving and racking products suitable for use everywhere from warehouses to libraries.
---
Locker Services and Repairs
The other side of the business provides a comprehensive locker maintenance service throughout the UK and Ireland. We offer support with locker installations, refurbishment in addition to supplying parts and converting locks.
Our engineers have over 50 years experience looking after lockers and are familiar with every make of locker from every major brand, whether old or new.
Our team will be happy to work with products you purchased from us or from any other supplier.
We're based in Bury St Edmunds in Suffolk, but deliver our services and products across the UK and the Republic of Ireland.
Whatever your locker requirements, our skilled team are able to help.
Email us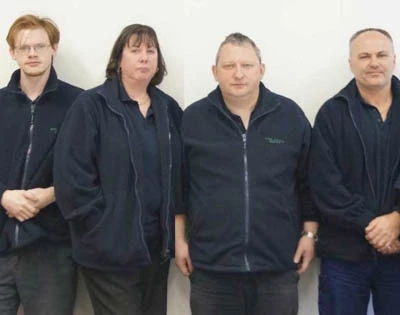 Team members from left to right Michael, Sue, John, and Dean
---
Health and Safety Accreditation
The business has two sides: it supplies a wide range of lockers, shelving, bench seating and storage products.
The range of lockers meets every kind of need, from standard metal lockers, plastic, heavy duty, Laptop Savers, Mini locker, Wet Specification, PPE lockers, to electronic lockers and many more.
---
The other side of the business provides service for locker installations throughout the UK and Ireland.
We maintain and refurbish lockers, supply spare parts and convert locks – new for old.
We have over 50 years of locker servicing experience - between them our engineers are familiar with every make of locker and major locker installations throughout the UK – they are a bunch of highly knowledgeable and skilled locker maintenance engineers.
Our experienced service centre staff will also be more than happy to assist with locks, keys, wrist bands and doors.
Tweets by Total Locker Service
---