Buggy Locks for locking Prams
---
Locks Keep Prams Safe & Secure for busy mums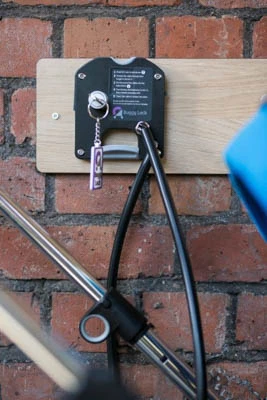 Click to enlarge
×

Delivery

Delivery Information

The approximate lead time is 10 Working Days.

Delivery to Mainland UK only, without any restrictions.

Our delivery times are; Monday - Friday 8am to 5pm.

We will deliver using the most economical method, using either our own vehicles or a carrier.

Goods may be palletised and delivered on an articulated vehicle.

The deliveries are kerb side only, you will need to arrange to unload the vehicle.

If there are any delivery restrictions / specific dates / times / dedicated deliveries, or FORS Registered deliveries; please contact the sales department as there may be an additional cost.
Features

Buggy Locks for locking Prams

Pram Lock is a pram security system for public spaces and buildings offering family-friendly facilities a low-cost, easy-fit solution to prevent the growing problem of buggy theft.

Latest police statistics show that pram theft has risen by almost a quarter in the past five years, a problem estimated to cost £70m per year.

This wall-mounted product can be installed in under ten minutes - inside or outside - and provides a robust coin operated mechanism that gives parents and carers peace of mind that their valuable buggy is completely secure.

Pram Lock, which is supplied with a two-year warranty, is weatherproof and uses renowned Ojmar locking technology to safely secure any type or size of pram or pushchair.

Visual instructions at point-of-use ensure that it can be accessed by parents and carers on a self-service basis - making it as easy to use as a supermarket trolley system.

The innovative new product is suitable for any public building where parents and carers face problems of how to secure an unattended buggy.

---

Parts included:

2 x Buggy Lock boards complete with 2 locks per board
4 x 2.5mm screws (2 per board)
4 x Rawlplugs (2 per board)
1 x Master key
2 x Keys per lock
Dimensions: 600mm (W) x 145mm (H) per board

Buggy Locks Frequently Asked Questions

What is a wall-fixed buggy lock?

A wall-fixed buggy lock is a lock that is permanently attached to the wall of a building. It provides a secure point to which prams or strollers can be locked, similar to how bike racks work for bicycles. These types of locks are often found in public places or establishments that expect frequent visits from parents with prams, such as shopping centers, parks, and schools.

What are the advantages of a wall-fixed buggy lock?

Added Security: Wall-fixed locks tend to be more robust than portable locks, offering greater resistance to tampering. Convenience: The lock is always available at the location, eliminating the need to carry a portable lock. Space-Efficient: By being mounted on the wall, these locks take up less ground space compared to other locking systems.

Are wall-fixed buggy locks safe?

While no lock can provide absolute security, wall-fixed buggy locks that are well-designed and made of durable, high-quality materials can offer a high degree of theft deterrence.

How do I use a wall-fixed buggy lock?

he exact procedure might differ depending on the lock's design, but the general steps are: Approach the wall-fixed lock. Open the lock using the available mechanism (key, combination, or electronic access). Position your pram so that the handle or a secure part of its frame can be inserted through the loop or arm. Close and lock the mechanism securely. Double-check to make sure it's properly locked.

Can anyone unlock a public wall-fixed buggy lock?

This depends on the locking mechanism. Some may require a universal key or code, which is typically provided by the establishment. Others might allow users to use their own padlock, ensuring that only they can unlock it. There may also be electronically controlled versions that require an app or an access card.
Specification

Buggy locks


Product Information

Coin- operated
2x2 (4) locks as standard
World renowned OJMAR locks
Suitable for indoor and outdoor installation

Fitting instructions
---