ASSA Cam Locks Model 8450 and 10450
---
ASSA Cam Lock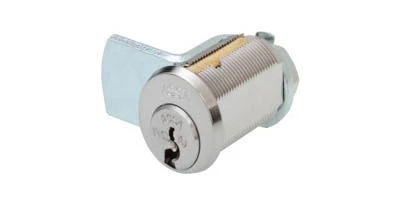 Click to enlarge
×

Delivery

Delivery Information

The approximate lead time is 1 - 5 Working Days.

Delivery to Mainland UK only, without any restrictions.

Our delivery times are; Monday - Friday 8am to 5pm.

We will deliver using the most economical method, using either our own vehicles or a carrier.

Goods may be palletised and delivered on an articulated vehicle.

The deliveries are kerb side only, you will need to arrange to unload the vehicle.

If there are any delivery restrictions / specific dates / times / dedicated deliveries, or FORS Registered deliveries; please contact the sales department as there may be an additional cost.
Features

ASSA Cam Locks

Application

5-Pin Cam lock to be used on doors with thickness up to 16mm with 18/22 hole preparation. Key entry in locked position.

The ASSA Cam Lock is a superior quality wet specification cam lock is designed to provide trouble-free operation in all wet changing room environments.

There are two variants of this lock, the 8450 and 10450. The only difference is the 10450 lock has a longer cylinder allowing the lock to fit on a 22mm thick door.

Features

To be used on doors with door thickness up to 16mm.
Mastered to series 29220.
Master key available.
Various cams available

Function

The key is rotated 90° and can only be removed when the catch is in locked position.
Right handed as standard and left handed on request.

Material

Cylinder and keys made of nickel plated brass.
Specification

Specification sheet
Specification sheet
ASSA Cam Lock Cams
All Locker Locks
Cam Lock Page
ASSA Page
---