Pure Locker Room Bench seating
---
Pure Locker Room Bench seating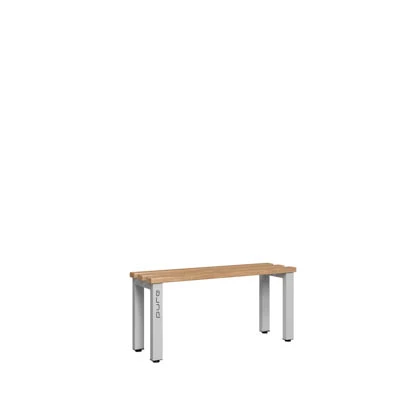 Click to enlarge
×

Delivery

Delivery Information

The approximate lead time is 15 Working Days.

Delivery to Mainland UK only, without any restrictions.

Our delivery times are; Monday - Friday 8am to 5pm.

We will deliver using the most economical method, using either our own vehicles or a carrier.

Goods may be palletised and delivered on an articulated vehicle.

The deliveries are kerb side only, you will need to arrange to unload the vehicle.

If there are any delivery restrictions / specific dates / times / dedicated deliveries, or FORS Registered deliveries; please contact the sales department as there may be an additional cost.
Features

Manufactured bench seating offers a practical and eco-friendly solution for various settings, combining functionality with sustainability. Here's an overview focusing on UK-made Pure benches:

Eco-Conscious UK Manufacturing:

Pure bench seats are made in the UK and present an environmentally friendly option with a carbon zero rating. These benches are designed for changing and locker rooms, adaptable for placement against walls or as freestanding units. They come in different sizes, pre-assembled for immediate use. Their modern design includes a selection of color combinations, allowing customization for different spaces. The durability and quality of these benches are underlined by a 10-year manufacturer's guarantee, ensuring they are built to last.

Design Features and Safety Considerations:

Available in lengths from 1000mm to 2000mm and in three seat heights, Pure benches cater to diverse environments like schools, gyms, and workplaces. Constructed from mild steel with polymer slats, these benches are produced in carbon zero facilities. A notable safety feature is the use of Avdel nuts, which secure the slats from the top, eliminating sharp undersides and making the design safer and cleaner. This unique fixing method also avoids the need for welding brackets, resulting in a neater appearance and reduced dust accumulation. Pre-assembled delivery ensures that the benches are robust and ready for the rigors of everyday use. The frame colors can be chosen to match or contrast with related products, like the Pure Lockers range.

These benches are not just seating options; they are a blend of practicality, safety, and environmental consciousness, making them ideal for various institutional and commercial spaces. The combination of robust construction, thoughtful design, and eco-friendly manufacturing practices makes them a top choice for those seeking durable and sustainable furniture solutions.
Specification

Specification sheet

---