DH Series Deposit Safes
---
DH Series Deposit Safes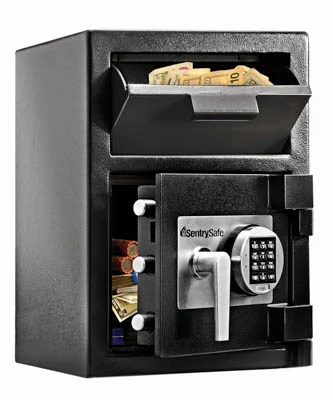 Click to enlarge
×

Delivery

Delivery Information

The approximate lead time is 5 Working Days.

Delivery to Mainland UK only, without any restrictions.

Our delivery times are; Monday - Friday 8am to 5pm.

We will deliver using the most economical method, using either our own vehicles or a carrier.

Goods may be palletised and delivered on an articulated vehicle.

The deliveries are kerb side only, you will need to arrange to unload the vehicle.

If there are any delivery restrictions / specific dates / times / dedicated deliveries, or FORS Registered deliveries; please contact the sales department as there may be an additional cost.
Features

DH-074E DEPOSITORY SAFE LARGE

IDEAL FOR PROTECTING CASH, KEYS, DEPOSIT SLIPS, RECEIPTS AND VALUABLES

3mm solid steel body with a 12mm thick anti-pry door.
Programmable electronic locking with time delay and wrong try penalty*
Hardened steel plates protect against drill attack.
Anti-fish hopper prevents contents being retrieved/stolen.
Base fixing bolts included.
*Batteries not included requires 4 x AAA alkaline batteries.
Specification

Specification sheet


Volume 26.64 litres
Weight 43.1 kg
Internal Height 267mm
Internal Width 348mm
Internal Depth 287mm
Aperture Height 102mm
Aperture Width 274mm
External Height 508mm
External Width 356mm
External Depth 396mm
---