Pure Laptop Locker 10 door
---
Laptop locker from Pure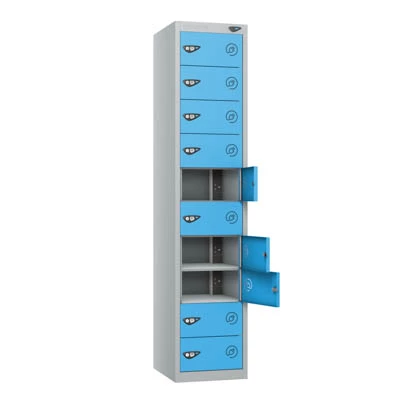 Click to enlarge
×

Delivery

Delivery Information

The approximate lead time is 10 Working Days.

Delivery to Mainland UK only, without any restrictions.

Our delivery times are; Monday - Friday 8am to 5pm.

We will deliver using the most economical method, using either our own vehicles or a carrier.

Goods may be palletised and delivered on an articulated vehicle.

The deliveries are kerb side only, you will need to arrange to unload the vehicle.

If there are any delivery restrictions / specific dates / times / dedicated deliveries, or FORS Registered deliveries; please contact the sales department as there may be an additional cost.
Features

Pure Laptop Charging Lockers Pure steel body, charging lockers are available in several sizes to meet most users needs for secure storage and charging of personal items.

A wide range of locking options and accessories make this one of the most practical solutions for charging your laptops, tablets, mobile phones etc..

Lockers are manufactured in a CO2Zero carbon zero facility. In addition, the lockers have a fire rating FlameZero.

You also have the security of knowing the bioshell anti-covid paint protecting you from infection.
Specification

Specification sheet
Pure Power Charging Lockers


Pure Laptop Locker Specification

1800mm high x 380mm wide x 460mm deep
Laptop storage and charging locker
10 compartments
10 doors
Choice of storage or charging
Charging a standard UK 3-pin plug or plug with a USB
Store for laptops computers
Bio-shell anti-bacterial and anti-covid paint
Wide choice of locking options
UK Manufactured
FREE Delivery to the UK Mainland
Delivery to Ground floor
Delivery: 15 working days
---