KS0030 SERIES CYGNUS KEY DEPOSIT SAFES
---
KS0030 SERIES CYGNUS KEY DEPOSIT SAFES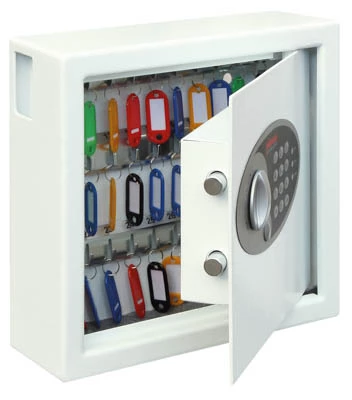 Click to enlarge
×

Delivery

Delivery Information

The approximate lead time is 1 Working Day.

Delivery to Mainland UK only, without any restrictions.

Our delivery times are; Monday - Friday 8am to 5pm.

We will deliver using the most economical method, using either our own vehicles or a carrier.

Goods may be palletised and delivered on an articulated vehicle.

The deliveries are kerb side only, you will need to arrange to unload the vehicle.

If there are any delivery restrictions / specific dates / times / dedicated deliveries, or FORS Registered deliveries; please contact the sales department as there may be an additional cost.
Features

LOCKING – KS0030K – Fitted with a high quality key lock and comes complete with two keys.
KS0030E – Advanced 'user friendly' electronic locking with anti-tamper or bounce solenoid locking system. For added peace of mind these safes are fitted with a key override facility should the code be misplaced (2 keys supplied).
SECURITY – When bolted to a wall these key safes provide defence against burglaries aimed at stealing car keys, house keys etc.
FIXING – Ready prepared for fixing to the wall with bolts supplied.
SPECIAL FEATURES – Key deposit slot, allowing keys to be deposited without the need to open the safe.
KEY TAGS – Supplied complete with a selection of coloured key rings
COLOUR – Finished in a high quality scratch resistant White paint RAL9003.
Specification

Specification sheet


MODEL NUMBER

KS0031K/E
KS0032K/E
KS0033K/E
EXTERNAL DIMENSIONS
(H x W x D)
280 x 300 x 100mm
360 x 300 x 100mm
660 x 430 x 130mm
INTERNAL DIMENSIONS
(H x W x D)
275 x 295 x 80mm
350 x 275 x 80mm
655 x 425 x 110mm
DEPOSIT SLOT
(H x W x D)
55 x 35 x 15mm
55 x 35 x 15mm
55 x 35 x 15mm
WEIGHT

6.5kg
7.5kg
20kg
CAPACITY

30 keys
48 keys
144 keys

---

---

---

---

MODEL NUMBER
KS0034E
KS0035E
KS0036E
EXTERNAL DIMENSIONS
(H x W x D)
755 x 580 x 250mm
760 x 580 x 280mm
760 x 580 x 330mm
INTERNAL DIMENSIONS
(H x W x D)
745 x 570 x 230mm
750 x 570 x 260mm
750 x 570 x 310mm
DEPOSIT SLOT
(H x W x D)
55 x 35 x 15mm
55 x 35 x 15mm
55 x 35 x 15mm
WEIGHT
43kg
46kg
49kg
CAPACITY
300 keys
500 keys
700 keys
---