Deep System Key Cabinets
---
Deep System Key Cabinets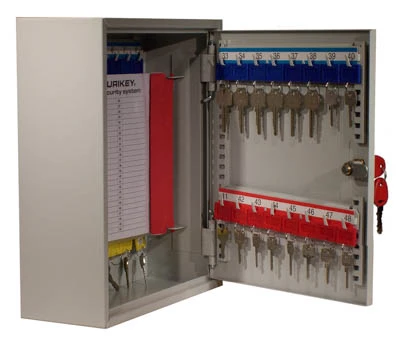 Click to enlarge
×

Delivery

Delivery Information

The approximate lead time is 5 Working Days.

Delivery to Mainland UK only, without any restrictions.

Our delivery times are; Monday - Friday 8am to 5pm.

We will deliver using the most economical method, using either our own vehicles or a carrier.

Goods may be palletised and delivered on an articulated vehicle.

The deliveries are kerb side only, you will need to arrange to unload the vehicle.

If there are any delivery restrictions / specific dates / times / dedicated deliveries, or FORS Registered deliveries; please contact the sales department as there may be an additional cost.
Features

SYSTEM 48/D Deep Key Cabinet

Key cabinet with increased depth – Ideal for storing bunches of keys.

Strongly made steel cabinet with a flush closing rim to resist forced entry.

Adjustable colour-coded and numbered hook bars allow the layout to be customised.

Ingenious key tabs are designed to hang so the number is always visible.

Closed loops are included for use with optional security seals.

Key locations can be recorded on the control index which is removable for added security.

A durable Light Grey paint finish will suit most environments.

They are supplied with security lock and 2 keys.
Specification

Specification sheet


Weight 5.000 kg

Dimensions 355 (H) x 300 (W) x 120 (D) mm

Standard Bronze

Capacity 48 bunches

Locking Options B – 3/4 Wheel Mechanical Combination, D – Padlocking Cam Lock, F – CL1000, I – La Gard 702, L – Safe Logic
---