Heavy Duty Lockers
---
Heavy Duty duty laminate door lockers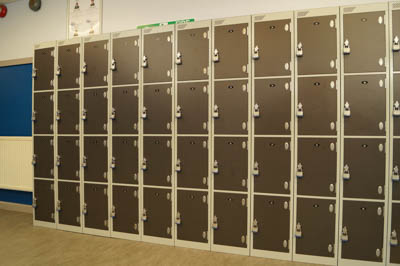 Click to enlarge
×

Delivery

Delivery Information

The approximate lead time for 300mm and 450mm deep lockers is 15 working days, next day delivery can be arranged for a small fee.

Delivery to Mainland UK only, without any restrictions.

Our delivery times are; Monday - Friday 8am to 5pm.

We will deliver using the most economical method, either using our own vehicles or a carrier.

Goods may be palletised and delivered on an articulated vehicle. The deliveries are kerb side only, so you would need to arrange to unload the vehicle.

If there are any delivery restrictions / specific dates / times / dedicated deliveries, or FORS Registered deliveries; please contact the sales department as there may be an additional cost.
Features

System 1300 laminate door lockers

Developed over many years to be tough and robust.

This good looking locker is available in a wide range of door laminates from the Formica and Arpa ranges.

Laminate door lockers are manufactured in the UK to order due to the large product range both in dimensions and colours.

This premium UK manufactured locker is both hardwearing and durable. Locker parts are readily available.

The lockers are supplied as standard with cam locks with keys or swivel hasp locks to take a padlock. Most locking options are available with an additional premium including coin locks, combination locks, electronic combination locks, coin collect locks, RFID and much more.

Heavy duty Laminate door lockers are very strong heavy duty for when you need the storage solution to be robust and damage resistant.

Not only is this locker strong it is very pleasing to the eye, heavy duty lockers with laminate door lockers are available in a wide range of door laminates from our Arpa and Formica range.

System 1300EHD laminate door lockers are the perfect solution for increasing security in your office, school or place of work. They?re safe and reliable, and for when metal door lockers are either not good looking or robust enough this laminate door locker is ideal with its wide choice of Formica or Arpa compact grade laminate colours and finishes.

These sturdy lockers come with one, two, three, four, five or six compartments, depending on your requirements. A single-door locker is ideal for holding more items, while a multi-compartment locker means up to six people can store their valuables securely.

They are crafted from strong steel with compact grade laminae doors, so you can rest assured that your goods will be safe inside. Choose your laminate from our Arpa or Formica range.

These units are available with sloping tops to keep them tidy and prevent clutter.

Or why not choose a stand to elevate your lockers so the floor can still be cleaned?

Our single and two-door lockers come with a handy hanging rail. This makes them perfect for storing coats and jackets safely ? and keeping clutter away from your staffroom

---
Specification

FREE shipping UK mainland

Specification:

Formica and Arpa laminate
Locker doors 1 to 6 compartments
Locker height 1775mm
Locker widths 300mm and 450mm
Locker depths 300mm and 450mm
Locking options cam lock with 2 keys or swivel hasp lock to take a padlock
Master key available
Locker phosphate and powder coated
Strong UK manufactured product
Product lead-time 3 weeks
Locker door colours
Locker specification


Specification sheet Carcase colour chart Formica laminate Arpa laminate
Locker Parts
Budget metal lockers
---