Pure Shield laminate door lockers
---
Strong, tough, secure locker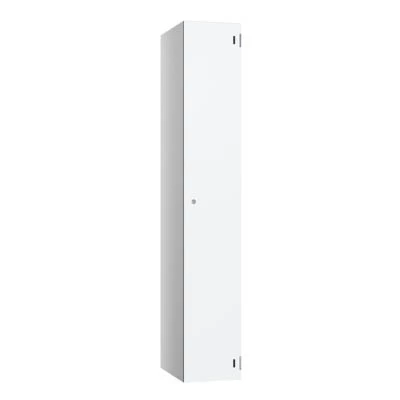 Click to enlarge
×

Delivery

Delivery Information

The approximate lead time is 15 Working Days.

Delivery to Mainland UK only, without any restrictions.

Our delivery times are; Monday - Friday 8am to 5pm.

We will deliver using the most economical method, using either our own vehicles or a carrier.

Goods may be palletised and delivered on an articulated vehicle.

The deliveries are kerb side only, you will need to arrange to unload the vehicle.

If there are any delivery restrictions / specific dates / times / dedicated deliveries, or FORS Registered deliveries; please contact the sales department as there may be an additional cost.
Features

Where appearance counts or locker doors need to withstand the rigours of heavy educational use, we have a range of lockers with solid-grade laminate (SGL) doors in a choice of solid and wood grain colours.

SGL is a hard waterproof material 10mm thick, easy to clean, and has excellent wear-resistant properties; our range of laminate surfaces and colours matches cubicle or furniture finishes.

Pure Shield Benefits

With the perfect combination of strength and aesthetics, these lockers have become widespread in educational and leisure applications. Where lockers are expected to both look good and withstand severe use.

Self-closing hinges minimise damage to property and person, through door fixing provides a strong and secure door fastening and multiple locking options from a simple padlock through to remote locker rental allocation and revenue.

In addition, the design possibilities are virtually limitless, with a wide variety of colour finishes available through laminate manufacturers.
Specification

Lock Range
Door colours
Specification sheet


Wide choice of compact-grade laminate
10-year guarantee
Flamezero fire tested and approved
Bioshell antibacterial coating
Free shipping to the UK mainland
180° opening hinge
Locker doors 1 to 6 compartments
Locker height 1800mm and 1200mm
Locker widths 300mm
Locker depths 390mm and 460mm
Lead time 3 working weeks
Wide choice of locking options
Optional stands
Optional locker number plate
---