Probe Storage & Charging Trolleys
---
Probe Storage & Charging Trolleys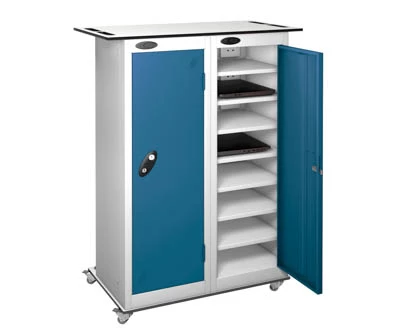 Click to enlarge
×

Delivery

Delivery Information

The approximate lead time is 20 Working Days.

Delivery to Mainland UK only, without any restrictions.

Our delivery times are; Monday - Friday 8am to 5pm.

We will deliver using the most economical method, using either our own vehicles or a carrier.

Goods may be palletised and delivered on an articulated vehicle.

The deliveries are kerb side only, you will need to arrange to unload the vehicle.

If there are any delivery restrictions / specific dates / times / dedicated deliveries, or FORS Registered deliveries; please contact the sales department as there may be an additional cost.
Features

LAPBOX Laptop Trolleys charge or just store

Features and benefits

All available charging or non-charging/store
Great range of sizes and styles available
All charging units are tested: BS 6396:2008*
Doors secured by a solid sturdy hinge
Robust and sturdy steel construction
Lock covers allow for numbering on every door for easy identification
A wide variety of locking solutions are available (see page 49 for details)
Rear perforated panel for heat dissipation
*Tested and passed using as a principle: BS 6396:2008
Optional integral 2.1amp USB socket available

Probe offer a comprehensive range of charging and storage lockers for a variety of smart devices. You can choose from powered or non-powered, mobile or static, there's a smart device solution to suit your needs.
Specification

Specification sheet

---