Bluetooth Access Solutions for work, home and outdoors
---
Master Lock Bluetooth Access Management Solutions
Opened using the Bluetooth Smart protocol in your Smartphone or device
Share access with family, friends or work colleagues
Corrosion resistant Zinc body with weather resistant cover
Boron Carbide double locking shackle for added protection
Compatible with: iOS 8 and next version / Android 4.3 and next version
Battery type CR2 (included)
---
Master Lock Bluetooth Smart padlocks give you the control to protect what matters most in your life.
Using your smartphone and an easy to use app, you can unlock your lock, give your friends or relatives access anytime, or limit access to day or night.
Control access to key areas by your workforce and review the entry log on your smartphone.
Allow temporary access when necessary and receive tamper alerts via e-mail when an unauthorised attempt is made to open the lock.
Master lock Bluetooth smart control system consists of 2 Bluetooth padlocks one wet specification and a lock box.
Bluetooth equipment can be used single or in conjunction to provide access and control to a large variety of equipment. Examples are forklift trucks or plant.
Locks have an audit trail and can be controlled by smart phone
Contactless Access Management
---
---
Bluetooth Access Key Lock Box
---
With secure key storage there is no need to place keys in an unprotected spot like under the door mat or plant pot.
Ideal for use in business applications working with many locks and many users
Access gained by using your Smartphone
Backup access using numeric code on lock keypad
Share access with others - temporary or permanent
Master Lock® Vault Enterprise IOS or Android app to control access
Low battery notification
Battery (CR123A) is easily replaced
Includes mounting hardware for easy hardware
Large storage capacity for keys and access cards
Product Page
Data Sheet
Installation Instructions
---
Bluetooth Smart Indoor Padlock
---
Opened using the Bluetooth Smart protocol in your smartphone or device
Share access with family, friends or work colleagues
Corrosion resistant Zinc body with Boron Carbide shackle
Double locking for added protection
Battery type CR2450 (included)
Body Width: 51mm
Shackle Diameter: 7mm
Shackle Length: 22mm
Horizontal Shackle Clearance: 22mm
Product Page
Personal Use Data Sheet
Business Use Data Sheet
Installation Instructions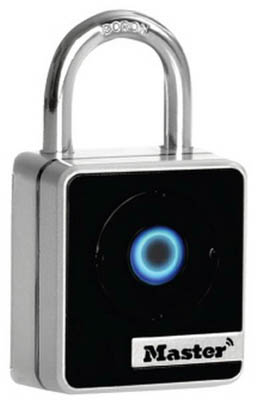 ---
---
---