FS1290 SERIES TITAN AQUA
---
FS1290 SERIES TITAN AQUA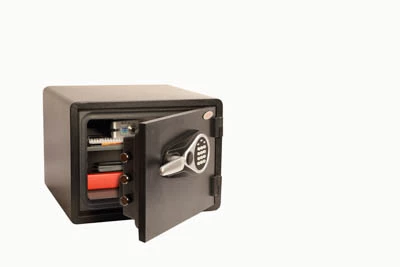 Click to enlarge
×

Delivery

Delivery Information

The approximate lead time is 1 Working Day.

Delivery to Mainland UK only, without any restrictions.

Our delivery times are; Monday - Friday 8am to 5pm.

We will deliver using the most economical method, using either our own vehicles or a carrier.

Goods may be palletised and delivered on an articulated vehicle.

The deliveries are kerb side only, you will need to arrange to unload the vehicle.

If there are any delivery restrictions / specific dates / times / dedicated deliveries, or FORS Registered deliveries; please contact the sales department as there may be an additional cost.
Features

THE PHOENIX TITAN AQUA is an ultra-modern and compact range of safes, designed to protect documents, digital media & valuables from fire, water and theft, ideal for residential and business use.

FIRE PROTECTION (PAPER) – 1hr fire protection for paper documents.
FIRE PROTECTION (DIGITAL MEDIA) – 1hr fire protection for digital media (DVD's, USB sticks & Hard Drives).
WATER RESISTANT – Up to 200mm of water for 24 hours.
LOCKING – Fitted with an advanced user friendly electronic lock with illuminating keypad, built-in alarm and key override facility (2 keys supplied).
SECURITY PROTECTION – Recommended overnight cash risk of £2,000 or £20,000 valuables.
CONSTRUCTION – Large 25mm live locking bolts for added protection against attack.
Specification

Specification sheet


MODEL NUMBER
FS1291E
FS1292E
FS1293E
EXTERNAL DIMENSIONS
(H x W x D)
355 x 470 x 480mm
460 x 470 x 480mm
610 x 530 x 480mm
INTERNAL DIMENSIONS
(H x W x D)
220 x 330 x 325mm
330 x 330 x 325mm
475 x 385 x 325mm
DOOR SWING
305mm/47mm
410mm/47mm
550mm/47mm
WEIGHT
36kg
45kg
62kg
CAPACITY
24 Litres
35 Litres
60 Litres
SHELVES / DRAWERS /
INTERNAL KEY HOOKS
1/0/0
1/0/5
1/1/5
---