SS0991KD - Under Counter Note Front-loading Deposit Safe
---
SS0991 Under Counter Front-loading Deposit Safe Recommended for overnight cash cover of £1,000 cash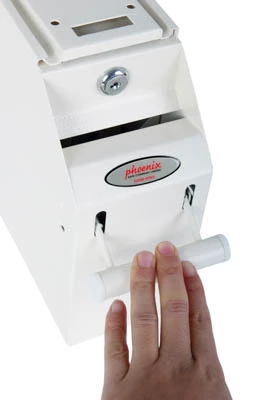 Click to enlarge
×

Delivery

Delivery Information

The approximate lead time is 1 Working Day.

Delivery to Mainland UK only, without any restrictions.

Our delivery times are; Monday - Friday 8am to 5pm.

We will deliver using the most economical method, using either our own vehicles or a carrier.

Goods may be palletised and delivered on an articulated vehicle.

The deliveries are kerb side only, you will need to arrange to unload the vehicle.

If there are any delivery restrictions / specific dates / times / dedicated deliveries, or FORS Registered deliveries; please contact the sales department as there may be an additional cost.
Features

Front-loading day deposit safe for cash management

Ideal for under counter locations, allowing the safe deposit of cash from a till drawer.

SECURITY PROTECTION – Recommended for overnight cash cover of £1,000 cash or £10,000 valuables.

LOCKING – SS0992KD – Fitted with a high-security double bitted lock supplied with two keys. SS0992ED – Fitted with a high security VdS class II electronic lock.

DEPOSIT FACILITY – Fitted with a lockable deposit (2 keys supplied) with Phoenix tilting baffle plate to ensure that the contents cannot be 'fished out'.

CONSTRUCTION – Constructed of 6mm steel plate door and 2mm body.

FIXING – Ready prepared for floor and wall fixing with bolts supplied.

COLOUR – Finished in a high-quality scratch-resistant Metallic Graphite paint.
Specification

Specification sheet

---