Dione Series Safes Ideal for Hotels And Laptops
---
Dione Series SS0300 Safes Ideal for Hotels And Laptops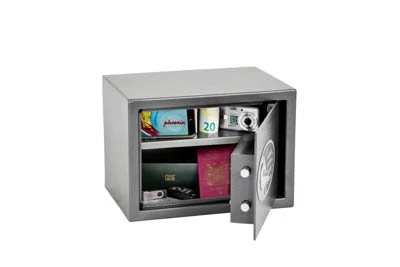 Click to enlarge
×

Delivery

Delivery Information

The approximate lead time is 1 Working Day.

Delivery to Mainland UK only, without any restrictions.

Our delivery times are; Monday - Friday 8am to 5pm.

We will deliver using the most economical method, using either our own vehicles or a carrier.

Goods may be palletised and delivered on an articulated vehicle.

The deliveries are kerb side only, you will need to arrange to unload the vehicle.

If there are any delivery restrictions / specific dates / times / dedicated deliveries, or FORS Registered deliveries; please contact the sales department as there may be an additional cost.
Features

THE PHOENIX DIONE SERIES are ideal for hotel

Ideal for residential or business use, for the storage of tablets, laptops, cash and valuables.

SECURITY PROTECTION - Recommended for £1,000 cash or £10,000 valuables storage*.

LOCKING – SS0301E & 2E are fitted with an advanced 'user-friendly' electronic lock with high-security anti-tamper or bounce solenoid locking system. For added peace of mind, these safes are equipped with a key override facility and Master code facility.

SS0311E & 12E are fitted with a high security motorized electronic lock, programmable with user and master codes. An LED display shows lock status. The lock can also be specified with an optional audit trail reader that can display or print the last 200 openings of the safe. This provides extra security in hotel and office use. For added peace of mind, these safes are fitted with a key override facility.

SPECIAL FEATURES – Fitted with a bright LED interior light so that contents can easily be seen, even in the most dimly lit cupboards. The internal width of these (excluding SS0301E) makes it ideal for the storage of widescreen laptops.

FIXING – Ready prepared for floor or wall mounting (supplied with bolts suitable for brick walls or concrete floors).

OPTIONAL – Internal USB & plug charging facility. Call for further details.*

COLOUR – Finished in a high quality scratch resistant Metallic Graphite paint.
Specification

Specification sheet

---