Phoenix Safe FS2410 Series World Class Lateral Fire Files
---
Phoenix Safe FS2410 Series World Class Lateral Fire Files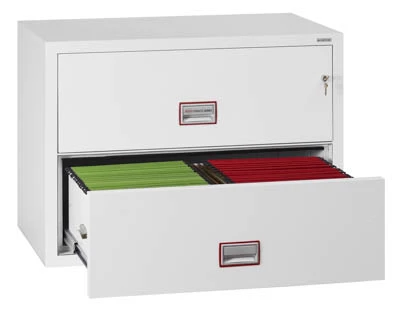 Click to enlarge
×

Delivery

Delivery Information

The approximate lead time is 5 Working Day.

Delivery to Mainland UK only, without any restrictions.

Our delivery times are; Monday - Friday 8am to 5pm.

We will deliver using the most economical method, using either our own vehicles or a carrier.

Goods may be palletised and delivered on an articulated vehicle.

The deliveries are kerb side only, you will need to arrange to unload the vehicle.

If there are any delivery restrictions / specific dates / times / dedicated deliveries, or FORS Registered deliveries; please contact the sales department as there may be an additional cost.
Features

THE PHOENIX WORLD CLASS LATERAL FIRE FILE FS2410 series offers unrivalled protection and capacity for documents and data in a stylish modern lateral filing cabinet format. Ultra lightweight insulation materials also mean the cabinet can be used on most standard floors without the need for supporting.

FIRE PROTECTION (PAPER) – Tested to the Swedish NT Fire 017- 60 Paper standard, providing 60 minutes fire protection for paper documents.
FIRE PROTECTION (DATA) – 60 minutes protection for computer tapes and digital media when stored in optional FSDPI09.
WATER RESISTANCE – Water resistant seals prevent water damage to contents when cabinet is subjected to sprinkler systems or fire hoses***.
DROP TEST – Fire and impact tested from 9.1 metres for resistance to the impact of falling through the burning floors of a building.
CAPACITY – Able to accommodate foolscap, A4 and A5 files on width adjustable rails.
LOCKING – FS2410K – Fitted with a high quality key lock supplied with two keys. FS2410E – Fitted with an advanced high security electronic lock with clear LED display, dual control, hidden code & scrambled code that can be programmed as standard. FS2410F – Fitted with an advanced high security touchscreen keypad & fingerprint lock with clear LED display, internal alarm, dual control, hidden code and scrambled code that can be programmed as standard with up to 128 fingerprints.
COLOUR – Finished in a high quality scratch resistant White paint RAL9003.
Specification

Specification sheet

---