Hook-board wall mounted, wall mounted coat rail
---
---
Wall mounted coat rail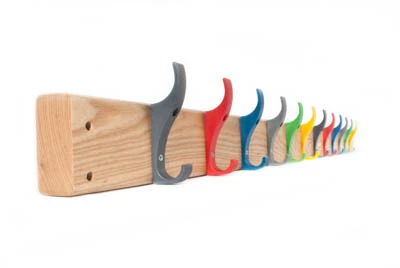 Click to enlarge
×

Delivery

Delivery Information

The approximate lead time is 5 Days.

Delivery to Mainland UK only, without any restrictions.

Our delivery times are; Monday - Friday 8am to 5pm.

We will deliver using the most economical method, using either our own vehicles or a carrier.

Goods may be palletised and delivered on an articulated vehicle.

The deliveries are kerb side only, you will need to arrange to unload the vehicle.

If there are any delivery restrictions / specific dates / times / dedicated deliveries, or FORS Registered deliveries; please contact the sales department as there may be an additional cost.
Features

Available in a choice of lengths

Ash slat from stock
Complete with our virtually unbreakable coat hooks
Direct from us; a trusted UK manufacturer
Supplied with our 5 year manufacturer's guarantee

Wall mounted coat hook board strong and robust and delivered in 5 working days.

Our wall mounted coat rails are virtually indestructible, manufactured from Ash hardwood slat and plastic virtually indestructible coat hooks ideal for staff rooms to football stadiums, and from primary schools to five-star spas, our bench seating offer exceptional value for money and is designed to be strong and robust.

Our changing room wall mounted hook boards are designed to withstand the toughest environments.

Hook boards are available in custom sizes, please call 01284 749211
Specification

Specification sheet


Coat Rails Specification

Height: 80mm
Depth: 25mm
Length: 1000mm / 1200mm / 1500mm / 2000mm Radiused Slats
Ash manufactured from 80mm x 25mm timber which have been sanded, sealed and polished with hardwearing lacquer

Coat Hooks Complete with Grey plastic coat hooks positioned at 150mm centres

1000mm = 5 hooks
1200mm = 6 hooks
1500mm = 8 hooks
2000mm = 11 hooks

Hook Colours Additional hook colours are available

Specification sheet
Hook Boards
---