Mercury HS2050 Series Safes, Tested to EN1143-1 standard.
---
The Phoenix Mercury HS2050 Series Safe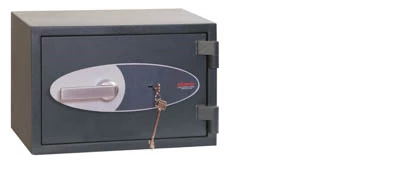 Click to enlarge
×

Delivery

Delivery Information

The approximate lead time is 5 Working Day.

Delivery to Mainland UK only, without any restrictions.

Our delivery times are; Monday - Friday 8am to 5pm.

We will deliver using the most economical method, using either our own vehicles or a carrier.

Goods may be palletised and delivered on an articulated vehicle.

The deliveries are kerb side only, you will need to arrange to unload the vehicle.

If there are any delivery restrictions / specific dates / times / dedicated deliveries, or FORS Registered deliveries; please contact the sales department as there may be an additional cost.
Features

THE PHOENIX MERCURY HS2050 SERIES

They are designed to provide extreme security protection for domestic and business use.

SECURITY PROTECTION – Tested to the prestigious European EN1143-1 Security standard. ECB.S Certified Grade II & III. ELARA – (Grade III) has a recommended Insurance rating of £35,000 cash or £350,000 valuables*.

APPROVALS – UK Police approved (Secured by Design scheme) and the Association of Insurance Surveyors (AiS).

FIRE PROTECTION – Tested to the European LFS 30P fire protection standard (EN15659) giving 30 minutes of fire protection for paper records.

KEY LOCKING – Fitted with high security double bitted VdS class II key lock.

ELECTRONIC LOCKING – Fitted with high-security VdS class II electronic lock with dual control, master code & time delay.

FIXING – Ready prepared for floor or wall fixing, fixing bolts supplied for concrete floors or brick walls.

SPECIAL FEATURE – Pre-prepared for alarm or power cable.

CONSTRUCTION – 3-way angular locking bolts, double-wall construction with specially formulated concrete infill, anti-drill plates and re-locker protection, provide a safe with great strength.

COLOUR – Finished in a high-quality scratch-resistant Graphite Grey paint RAL7024.

Suitable for storage of controlled drugs whose active ingredients exceed 500 grams.
Specification

Specification sheet

---