Front-loading Post Boxes, Secure letter deposit boxes
---
MB Series Front-loading letter-slot deposit Post Boxes, Secure letter boxes
Click to enlarge
×

Delivery

Delivery Information

The approximate lead time is 1 Working Day.

Delivery to Mainland UK only, without any restrictions.

Our delivery times are; Monday - Friday 8am to 5pm.

We will deliver using the most economical method, using either our own vehicles or a carrier.

Goods may be palletised and delivered on an articulated vehicle.

The deliveries are kerb side only, you will need to arrange to unload the vehicle.

If there are any delivery restrictions / specific dates / times / dedicated deliveries, or FORS Registered deliveries; please contact the sales department as there may be an additional cost.
Features

LOCKING – Fitted with a high quality key-lock and supplied with two keys.
SPECIAL FEATURES – Letra models are stackable, making them ideal for multi occupancy residences and office blocks.
FIXING – Suitable for wall mounting with pre-drilled holes and fixings supplied.
CONSTRUCTION – A heavy duty construction allows a lengthier product lifespan when compared to other thinner-walled letter boxes.
FINISH – A zinc galvanised coating prevents oxidisation of the letter box and gives it a corrosion resistant, weather-proof and rust proof finish.
Specification

Specification sheet


MODEL NUMBER

EXTERNAL DIMENSIONS
(H x W x D)
LETTERSLOT
(H x W)
WEIGHT

LETRA MB0116
320 x 215 x 85mm
30 x 176mm
2kg
CLASICO MB0117
370 x 365 x 135mm
40 x 216mm
3.5kg
LIBRO MB0115
350 x 390 x 205mm
46 x 324mm
4.5kg
ESTILO MB0122KA
450 x 350 x 105mm
38 x 325mm
3kg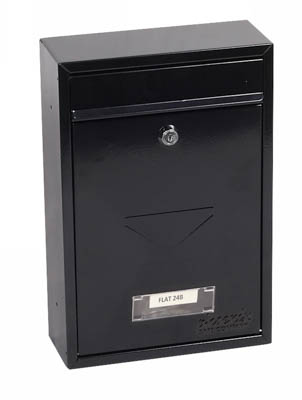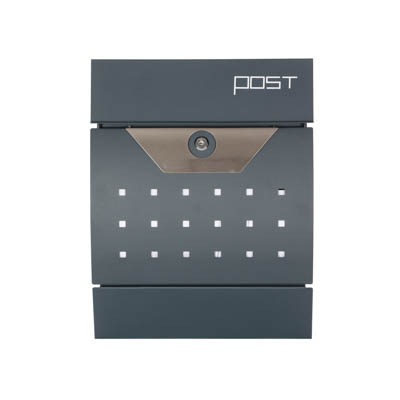 ---