Euro Vault Security Safes
---
Euro Vault Security Safes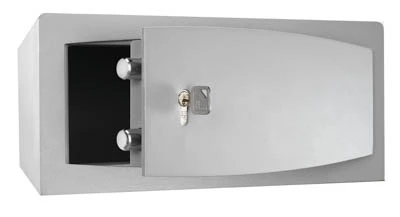 Click to enlarge
×

Delivery

Delivery Information

The approximate lead time is 5 Working Days.

Delivery to Mainland UK only, without any restrictions.

Our delivery times are; Monday - Friday 8am to 5pm.

We will deliver using the most economical method, using either our own vehicles or a carrier.

Goods may be palletised and delivered on an articulated vehicle.

The deliveries are kerb side only, you will need to arrange to unload the vehicle.

If there are any delivery restrictions / specific dates / times / dedicated deliveries, or FORS Registered deliveries; please contact the sales department as there may be an additional cost.
Features

Euro Vault Security Safes are built to the highest manufacturing standards; our Security Safes are designed to protect a wealth of valuable items within various environments.

Catering to private and commercial clients, our Security Safes enable secure storage of money, documents, jewellery, and more oversized items such as power tools and mobile phones. We also supply products that conform to the safe custody of drug regulations.

With each product, we utilise a Cash Rating system, which provides you with information to determine the ideal safe for your needs. In addition, all of our security safes are also rated on their ability to prevent an attack, including forced entry.

EURO VAULT BRONZE

The Euro Vault Bronze is the ideal solution with key or electronic locking options where cost and flexibility are paramount. Utilising the same build quality as our Mini Vault range, the Euro Vault Bronze aims at customers who wish to combine their safety with home or business security arrangements. Please be aware that insurance companies' ratings can vary depending on the risk. If this is an issue, please check the limits with your insurers to ensure ongoing coverage.
Specification

Euro Vault Key Locking
Euro Vault Electronic
Euro Vault Drawer Safe 12L
Euro Vault Drawer Safe 17L
Euro Vault Gas Strut Electronic


EURO VAULT – KEY LOCKING

£1,500 overnight cash cover (£15,000 valuables)
2mm Solid steel electrically welded body
4mm Thick door fitted with security 5-pin Euro profile cylinder and 2 keys
20mm Hardened steel locking bolts
Use your cylinder to incorporate the safe into an existing suited system
Suitable for rear or floor fixing – Bolts supplied
Colour – Metallic Dark Grey RAL7001

EURO VAULT – ELECTRONIC

£1,500 overnight cash cover (£15,000 valuables)
2mm Solid steel electrically welded body
4mm Thick door fitted with illuminated electronic keypad
20mm Hardened steel locking bolts
Locking is via a motorised lock – 4 x AA batteries included
Dual mode locking: fixed code and Hotel mode
Management override key and master code ensures emergency entry at all times
Soft foam insert protects valuables from damage
Automatic interior light for improved visibility
Suitable for floor/wall fixing – Bolts supplied
Colour – Metallic Dark Grey RAL7001
Insurance ratings may change depending on location; Please check with your underwriters

EURO VAULT DRAWER SAFE 12L – ELECTRONIC

£1,500 overnight cash cover (£15,000 valuables)
2mm Solid steel electrically welded body
4mm Thick door fitted with illuminated electronic keypad
20mm Hardened steel locking bolts
Locking is via a motorised lock – 4 x AA batteries included
Dual mode locking: fixed code and Hotel mode
Management override key and master code ensures emergency entry at all times
Soft foam insert protects valuables from damage
Automatic interior light for improved visibility
Suitable for floor/wall fixing – Bolts supplied
Colour – Metallic Dark Grey RAL7001
Insurance ratings may change depending on location; please check with your underwriters

EURO VAULT DRAWER SAFE 17L – ELECTRONIC

£1,500 overnight cash cover (£15,000 valuables)
2mm Solid steel electrically welded body
4mm Thick door fitted with illuminated electronic keypad
20mm Hardened steel locking bolts
Locking is via a motorised lock – 4 x AA batteries included
Dual mode locking: fixed code and Hotel mode
Management override key and master code ensures emergency entry at all times
Soft foam insert protects valuables from damage
Automatic interior light for improved visibility
Suitable for floor/wall fixing – Bolts supplied
Colour – Metallic Dark Grey RAL7001
Insurance ratings may change depending on location; Please check with your underwriters

EURO VAULT – ELECTRONIC

£1,500 overnight cash cover (£15,000 valuables)
2mm Solid steel electrically welded body
4mm anti-bludgeon door fitted with 20mm hardened steel locking bolts
Locking is via a motorised lock with keypad – 4 x AA batteries included
Dual mode locking: fixed code and Hotel mode
Management override key and master code ensures emergency entry at all times
Soft foam insert protects valuables from damage
Automatic interior light – 2 x AA batteries included
Suitable for floor fixing – Bolts supplied
Colour – Metallic Dark Grey RAL7001
Insurance ratings may change depending on location; please check with your underwriters
---