Brass Door Number Plaques
---
House door number plaque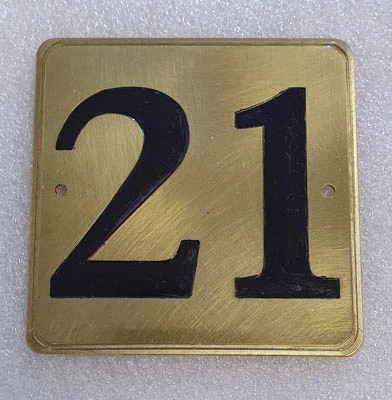 Click to enlarge
×

Delivery

Delivery Information

The approximate lead time is 5 Days.

Delivery to Mainland UK only, without any restrictions.

Our delivery times are; Monday - Friday 8am to 5pm.

We will deliver using the most economical method, using either our own vehicles or a carrier.

Goods may be palletised and delivered on an articulated vehicle.

The deliveries are kerb side only, you will need to arrange to unload the vehicle.

If there are any delivery restrictions / specific dates / times / dedicated deliveries, or FORS Registered deliveries; please contact the sales department as there may be an additional cost.
Features

Door number plaques

We manufacture door number plaques from 1.5mm thick brass in a variaty of sizes. If you don't find the size you are looking for, call us on 01284 749211, and we can email you a quotation.

Door Number Plaques Standard Materials

The standard materials we engrave for door signs and plaques are external engraving laminate 3.2mm thick in a wide range of colours.

Cast Acrylic 5mm thick with a wide range of solid colours, Brass and Aluminium are available as door number plaques.

Door Number Plaque Specification

Or door number plaques are manufactured from only quality materials on our engraving machines.
Specification

Specification sheet


Below are some of our standard door number plaque sizes. If you don't see what you want, then call us to discuss.

Plaque size

80mm wide x 80mm high

125mm wide x 125mm high

150mm wide x 150mm high

210mm wide x 210mm high

300mm wide x 300mm high

Materials

Brass

Aluminium

External engraving laminate

Cast acrylic
---