KC0600 SERIES COMMERCIAL KEY CABINETS
---
KC0600 SERIES COMMERCIAL KEY CABINETS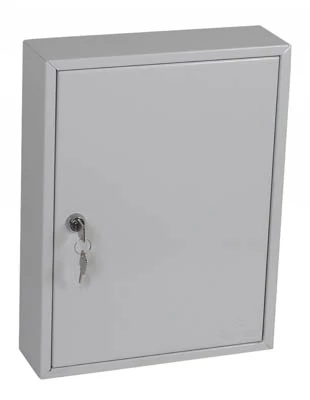 Click to enlarge
×

Delivery

Delivery Information

The approximate lead time is 1 Working Day.

Delivery to Mainland UK only, without any restrictions.

Our delivery times are; Monday - Friday 8am to 5pm.

We will deliver using the most economical method, using either our own vehicles or a carrier.

Goods may be palletised and delivered on an articulated vehicle.

The deliveries are kerb side only, you will need to arrange to unload the vehicle.

If there are any delivery restrictions / specific dates / times / dedicated deliveries, or FORS Registered deliveries; please contact the sales department as there may be an additional cost.
Features

LOCKING – KC0600K – Manufactured with a high quality cylinder lock supplied with 2 keys.
KC0600E – Fitted with a high quality electronic code lock, programmable with users own 4 digit code which can easily be changed when required.
KC0600S – As KC0600E with added feature of Push shut latch mechanism (Not available on KC0606 & KC0607 double door units).
KC0600N – Fitted with the NetCode 1000 lock allowing temporary access to the cabinets via the web-based NetCode Portal. NetCode is activated prior to the lock owner shipping and installing at a remote site. The NetCode Portal allows you to register and set up your account, activate your locks and generate time-sensitive codes. Using time-sensitive codes is a more secure way to grant access as the code will not work outside a designated timeslot. Generated codes can be sent by email or SMS to any email account or mobile phone.
KC0600P – Fitted with a Euro cylinder lock case. Optional (SP0600/Euro Lock) 35mm cylinder available separately, allowing you to add to your key system.
SPECIAL FEATURES – Each unit comes with adjustable hook bars and number labels to suit. The 400 and 600-hook units are double door cabinets.
FIXING – The cabinets have pre-drilled fixing holes for wall mounting.
FINISH – Finished in a high quality durable powder coated finish.
Specification

Specification sheet


MODEL NUMBER

EXTERNAL DIMENSIONS
(H x W x D)
WEIGHT

HOOKS

KC0601K/E/S/N/P
350 x 270 x 80mm
4kg
42
KC0602K/E/S/N/P
450 x 300 x 80mm
6kg
64
KC0603K/E/S/N/P
550 x 380 x 80mm
7kg
100
KC0604K/E/S/N/P
550 x 380 x 140mm
11kg
200
KC0605K/E/S/N/P
550 x 380 x 205mm
14kg
300
KC0606K/E/N
550 x 730 x 140mm
20kg
400
KC0607K/E/N
550 x 730 x 205mm
28kg
600
---