Probe industrial cupboards
---
Probe industrial cupboards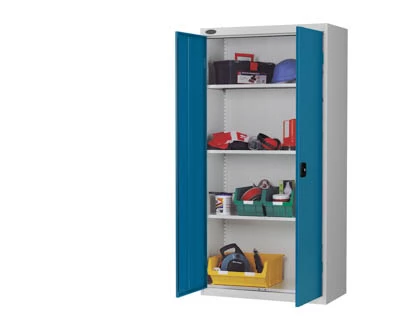 Click to enlarge
×

Delivery

Delivery Information

The approximate lead time is 15 Days.

Delivery to Mainland UK only, without any restrictions.

Our delivery times are; Monday - Friday 8am to 5pm.

We will deliver using the most economical method, using either our own vehicles or a carrier.

Goods may be palletised and delivered on an articulated vehicle.

The deliveries are kerb side only, you will need to arrange to unload the vehicle.

If there are any delivery restrictions / specific dates / times / dedicated deliveries, or FORS Registered deliveries; please contact the sales department as there may be an additional cost.
Features

industrial Specifications:

All cupboard components are manufactured from mild steel.
Door frames from 1.0mm, doors from 0.9mm and carcass and panels from 0.7mm.
Shelf loading is a maximum of 65kg U.D.L.
Specification

Standard Cupboard

---

Supplied with 3 adjustable full width shelves

Extra shelves available on request
H 1780mm W 915mm D 460mm

Wardrobe Cupboard

---

Complete with full width shelf and hanging rail.

Open Cupboard

---

Features 4 adjustable shelves.

Janitors/Caretakers Cupboard

---

A central partition creates a useful mix of shelves and garment storage.

3 adjustable shelves
Single fixed shelf with hanging rail
H 1780mm W 915mm D 460mm

8 Compartment Cupboard

---

Incorporates a central partition with 6 adjustable shelves.

12 Compartment Cupboard

---

Features two partitions with 9 adjustable shelves.

Slim Cupboard

---

Complete with 3 adjustable shelves.

Low Cupboard

---

Comes with 1 adjustable shelf as standard

Extra shelves available on request
H 1015mm W 915mm D 460mm

Small Cupboard

---

Complete with 2 adjustable shelves

Extra shelves available on request
H 890mm W 460mm D 460mm
---