KC0500 Keysure Series - Deep Plus Key & Padlock Cabinets
---
KC0500 Keysure Series - Deep Plus Key & Padlock Cabinets have been designed fit padlocks.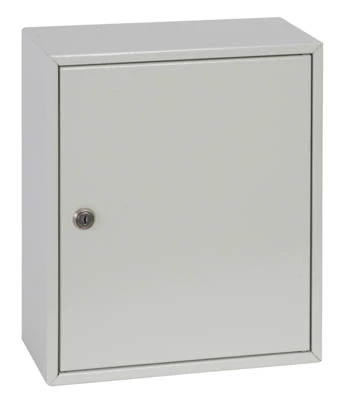 Click to enlarge
×

Delivery

Delivery Information

The approximate lead time is 1 Working Day.

Delivery to Mainland UK only, without any restrictions.

Our delivery times are; Monday - Friday 8am to 5pm.

We will deliver using the most economical method, using either our own vehicles or a carrier.

Goods may be palletised and delivered on an articulated vehicle.

The deliveries are kerb side only, you will need to arrange to unload the vehicle.

If there are any delivery restrictions / specific dates / times / dedicated deliveries, or FORS Registered deliveries; please contact the sales department as there may be an additional cost.
Features

Keysure Deep Cabinets have been designed to accommodate larger bunches of keys or padlocks. Each hook is longer, double spaced and staggered, to give the required space for this application.

LOCKING – KC0500K – Manufactured with a high quality cylinder key lock supplied with 2 keys. KC0500E – Economical Electronic Code lock with a simple 10 digit keypad gives the owner the option of entering 4-digit codes, and is easy to use. KC0500M – Mechanical push button combination code lock. The lock has over 8,000 combination differs, and comes with a push-shut latch operation. Also has a hold open facility for code free entry.
SPECIAL FEATURES – Each unit comes complete with adjustable hook bars, key tabs, key rings, number labels to suit the hook bars and removable control indexes.
FIXING – The cabinets have pre-drilled fixing holes for wall mounting.
FINISH – Finished in a durable powder coated finish.
Specification

Specification sheet


MODEL NUMBER
KC0501K/E/M
KC0502K/E/M
KC0503K/E/M
EXTERNAL DIMENSIONS
(H x W x D)
350 x 380 x 140mm
550 x 380 x 140mm
550 x 730 x 140mm
INTERNAL DIMENSIONS
(H x W x D)
348 x 378 x 138mm
548 x 378 x 138mm
548 x 728 x 138mm
DOOR SWING
340mm
360mm
360mm
WEIGHT
6kg
10kg
17kg
CAPACITY / HOOKS
24
50
100
---