Pure Shield Low Hight Laminate Door Lockers
---
Pure Shield Low Hight Laminate Door Lockers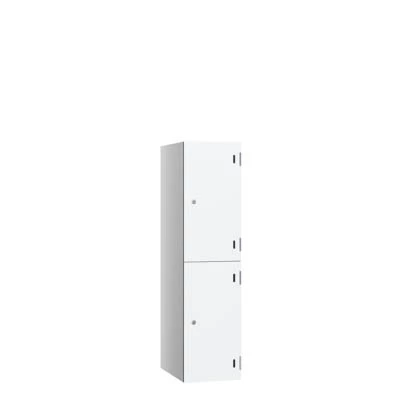 Click to enlarge
×

Delivery

Delivery Information

The approximate lead time is 15 Working Days.

Delivery to Mainland UK only, without any restrictions.

Our delivery times are; Monday - Friday 8am to 5pm.

We will deliver using the most economical method, using either our own vehicles or a carrier.

Goods may be palletised and delivered on an articulated vehicle.

The deliveries are kerb side only, you will need to arrange to unload the vehicle.

If there are any delivery restrictions / specific dates / times / dedicated deliveries, or FORS Registered deliveries; please contact the sales department as there may be an additional cost.
Features

Where appearance counts or locker doors need to withstand the rigours of heavy educational use, we have a range of lockers with solid-grade laminate (SGL) doors in a choice of solid and wood grain colours.

SGL is a hard waterproof material 10mm thick, easy to clean, and has excellent wear-resistant properties; our range of laminate surfaces and colours matches cubicle or furniture finishes.

Pure Shield Benefits

With the perfect combination of strength and aesthetics, these lockers have become widespread in educational and leisure applications. Where lockers are expected to both look good and withstand severe use.

Self-closing hinges minimise damage to property and person, through door fixing provides a strong and secure door fastening and multiple locking options from a simple padlock through to remote locker rental allocation and revenue.

In addition, the design possibilities are virtually limitless, with a wide variety of colour finishes available through laminate manufacturers.

Pure Shield laminate door lockers

Compact grade laminate (CGL) door lockers offer a plethora of benefits that make them stand out in terms of both aesthetics and durability. First of all, they present a sleek, modern appearance. Their smooth surface and vibrant color options make them easily adaptable to various settings. Moreover, they are customizable, allowing you to choose finishes that align with your brand or interior design.

In addition to their looks, CGL lockers are renowned for their resilience. Specifically, they are resistant to impact. Unlike traditional materials, they can withstand knocks and bangs without showing signs of damage. This makes them ideal for high-traffic environments like schools or gyms. Additionally, they are resistant to scratches. Everyday wear and tear, which can leave noticeable marks on other materials, is not an issue for CGL lockers.

Furthermore, CGL lockers excel in moisture resistance. In humid conditions or places where they are exposed to water, they remain unaffected. Unlike wooden lockers, they do not warp, swell, or rot. This is a key benefit in places like swimming pools and spa facilities. They are also resistant to chemicals and easy to clean, promoting a hygienic environment.

Importantly, their strength does not compromise their weight. They are relatively lightweight, which makes installation easier and less time-consuming. Plus, their lightness does not affect their durability; they are built to last for years.

Equally significant is their resistance to vandalism. Graffiti and other forms of deliberate damage can be easily cleaned off, leaving the lockers looking as good as new. In schools or public places where vandalism can be an issue, this is a considerable advantage.

Additionally, they are fire-resistant. In the unfortunate event of a fire, CGL lockers are less likely to contribute to the spread of flames. This adds an extra layer of safety to the environment they are placed in.

In summary, CGL door lockers are an excellent choice for those who are looking for a blend of aesthetic appeal and robustness. They are not just visually pleasing, but also engineered to withstand various forms of damage and stress. Their resilience to impact, moisture, and chemicals makes them a long-lasting investment. Their wide range of customization options ensures they can fit into any decor, making them not just a practical, but also a stylish choice.
Specification

Lock Range
Door colours
Specification sheet


Laminate door lockers

Wide choice of compact-grade laminate
10-year guarantee
Flamezero fire tested and approved
Bioshell antibacterial coating
Free shipping to the UK mainland
180° opening hinge
Locker doors 1 to 6 compartments
Locker height 1800mm and 1200mm
Locker widths 300mm
Locker depths 390mm and 460mm
Lead time 3 working weeks
Wide choice of locking options
Optional stands
Optional locker number plate

FAQ about compact grade laminate lockers

What is compact grade laminate?

Compact grade laminate is a self-supporting decorative material made from layers of kraft paper impregnated with phenolic resins, combined with a decorative surface layer. These layers are compressed under high pressure and temperature to form a dense, robust sheet. The material is known for its high resistance to wear, impact, moisture, and chemicals.

Why choose lockers with compact grade laminate doors?

Lockers with CGL doors are often chosen for their durability, resistance to moisture and chemicals, and low maintenance requirements. These properties make them ideal for environments like schools, gyms, and industrial settings, where they can withstand frequent use and potentially harsh conditions.

How thick are compact grade laminate doors?

The thickness can vary, but common measurements include 10mm,12mm and 13mm. The choice often depends on the specific application and the level of durability required.

How do you clean and maintain these types of lockers?

Cleaning CGL locker doors is generally straightforward. A damp cloth and mild detergent are usually sufficient for removing dirt and fingerprints. Harsh chemicals like bleach should be avoided as they can damage the laminate surface.

Are they fire-resistant?

Compact grade laminate has some inherent fire-resistant qualities but is not fireproof. It is always best to check the fire rating of the specific product to ensure it meets the standards and regulations for your intended application.

What are the customization options?

Lockers with CGL doors can be customized in various ways, including color, texture, and the inclusion of features like ventilation holes, engraved numbering, or digital locks.

How do they compare cost-wise with other materials?

While initial costs for CGL lockers may be higher than those made from materials like steel or wood, their durability and low maintenance requirements often result in a lower total cost of ownership over time.

Are they suitable for wet environments?

Yes, CGL is highly resistant to moisture, making it suitable for use in wet or humid environments like swimming pools, gyms, or industrial settings.

How easy is it to install lockers with compact grade laminate doors?

The installation process can vary depending on the specific design and requirements of the lockers. However, given that CGL is a relatively lightweight and easy-to-handle material, installation is generally considered to be straightforward.

What are the limitations of compact grade laminate lockers?

While CGL is durable and resistant to many types of damage, it is not entirely indestructible. Heavy impacts or the use of inappropriate cleaning agents can damage the surface. Additionally, the higher initial cost may not be justifiable for all applications.
---