Total Locker Service being an Ojmar approved distributor which is authorised to supply Ojmar security keys along with all their coin lock keys. This includes the SecurityKey which is a dimple key. For all Ojmar coin lock keys, we offer a next day key cutting service if you order your keys before 10:00. You can order online or email us the key codes. if you have large numbers of keys you can email us for a quotation. All our security keys are cur in genuine Ojmar key blanks.
In conclusion, this will mean that you will receive your keys up to 3 weeks earlier than if you order elsewhere. For instance, if you order your Ojmar security keys elsewhere they will have to be cut by Ojmar in Spain. The lead time for key cutting by Ojmar is 2 to 3 working weeks. We will supply your keys and despatch them on a next day delivery.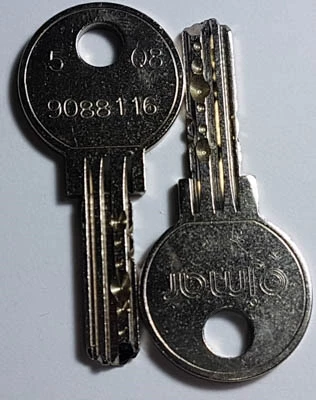 Ojmar Standard Key
We cut all series of Ojmar Standard keys on a next day delivery if orders before 10:00. All we need to cut the keys is the number off the key which in the case of the photo is 08135K1. Therefore if you provide us with the key numbers before 10:00 we can cut your keys and dispatch then for delivery on the next day. For instance if you have a large number of keys then email us on sles@totallocker.co.uk. We will email you with a quotation. Keys cut by Ojmar will typically take two to three working weeks from order. There for order with Total Locker Service. You will revive your keys on a next day delivery.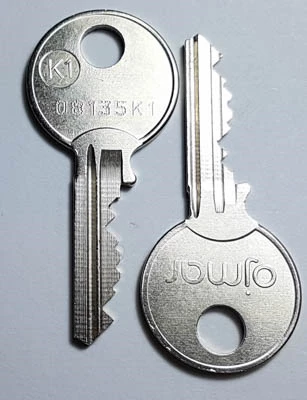 Ojmar V series Key
We at Total Locker Service cut on a next day dispatch if ordered before 10:00. Ojmar V series dry specification locker keys. you can purchase the keys directly from our website. If you require a large number of keys we can email you a quotation. All you need to do is provide us with the key numbers for example V2787 we can email you with a price.