Police Lockers and Kitbag Storage
---
These Police lockers have been developed in conjunction with police officers.
The locker has been designed to store in a structured manner all a police officers equipment, from stab vest to riot helmet.
The locker shelves can be repositioned to accommodate different headgear or equipment.
The kit locker is designed to store kit bags.
Large capacity kit storage lockers
---
Police lockers and kit storage systems
Police Double door locker with adjustable shelves
---
Double door structured storage cupboard designed for police use.
Large hanging space with side storage for garments or equipment.
Dimensions 1775mm high x 700mm wide x 450mm deep
---
Police Kit bag locker
---
This locker has been designed to store large kit bags, double door
Dimensions 591mm high x 1000mm wide x 550mm deep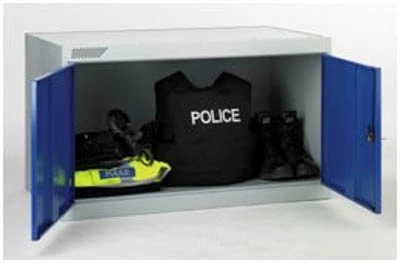 ---
Large 2 person single door crew storage locker with shelf at top and bottom.
---
Large storage locker single door with hat shelves and hanging rails
Dimensions 1800mm high x 600mm wide x 600mm deep)
---
Large single door storage locker with shelf.
---
Large storage locker single door with hat shelf hanging rail and door options for equipment requirements
Dimensions 1800mm high x 450mm or 600mm wide x 600mm deep)
Configuration 1: Heavy duty hanging rails
Configuration 2: Door mounted internal cs gas canister holder
Configuration 3: Six inch cube internal lockable door compartment
Configuration 4: Internal cs gas canister holder & lockable radio compartment
---
---