Probe Divided Locker
---
Probe Divided Locker part of the Probe industrial locker range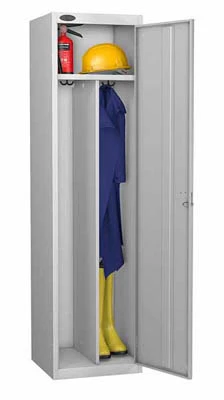 Click to enlarge
×

Delivery

Delivery Information

The approximate lead time is 20 Working Days.

Delivery to Mainland UK only, without any restrictions.

Our delivery times are; Monday - Friday 8am to 5pm.

We will deliver using the most economical method, using either our own vehicles or a carrier.

Goods may be palletised and delivered on an articulated vehicle.

The deliveries are kerb side only, you will need to arrange to unload the vehicle.

If there are any delivery restrictions / specific dates / times / dedicated deliveries, or FORS Registered deliveries; please contact the sales department as there may be an additional cost.
Features

Divided lockers, when it is essential to separate garments, workwear, and overalls a systematic approach is always best.

ur divided storage allows you to separate clean and dirty garments in one unit to prevent cross-contamination.
Specification

Specification sheet


Probe Divided Locker

Specification:

Doors: single door locker
Lock: swivel hasp lock or key lock with two keys
Hight 1775mm or 1925 when fitted with a sloping top
Width: 460mm
Depth: 460mm
Body colour: silver of white
Door colour: Black, Blue, Green, Red, Silver, White, Yellow

Options

Door numbers
Key fobs
Master key
Sloping top
---