Tube heater the low cost solution to space heating
---
Tube heater the low cost solution to space heating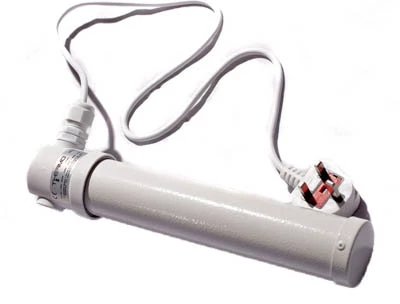 Click to enlarge
×

Delivery

Delivery Information

The approximate lead time is 5 - 10 Working Days.

Delivery to Mainland UK only, without any restrictions.

Our delivery times are; Monday - Friday 8am to 5pm.

We will deliver using the most economical method, using either our own vehicles or a carrier.

Goods may be palletised and delivered on an articulated vehicle.

The deliveries are kerb side only, you will need to arrange to unload the vehicle.

If there are any delivery restrictions / specific dates / times / dedicated deliveries, or FORS Registered deliveries; please contact the sales department as there may be an additional cost.
Features

Where there is a need for low-cost background heating such as in kennels or garages or if you need to remove condensation from windows and walls the aluminium tubular heater is the ideal solution. Manufactured in the UK it is perfect for use around your home or at work and all at very low running costs.

It is supplied pre-fitted with 1 meter of 3 Core Mains Cable with optional Moulded Plug.

The tubular heater has been in production since 1948 all these years built and manufactured in the UK.

Features:

All tubular heaters are IP54 rated.
Supplied as standard with 1mtr of 3 core flex.
Suitable for use in Zones 1 & 2 within the bathroom.
Manufactured from aluminium with sizes from 1ft to 6ft, at 60W per foot.
All heaters are supplied with mounting brackets and anchorage for each length.
Linking kits (TBX2-PK) are also available to allow for banks of tubular heaters to be installed.
Available in standard colour parchment and white.
Year Warranty

Avalabe in both 110v and 240v that offer the ideal heating solution for applications that require low cost, steady background heat our eco tubular heaters can cost from just 0.005 Per Hour / Per Foot to run.

Designed with safety in mind and built in the UK, our heaters are a versatile heating product that are used as a heat source for frost protection and to prevent condensation.

They can be used in a variety of environments: to provide greenhouse heating, to heat an airing cupboard where there is no longer a hot water cylinder, to stop condensation building on windows and walls and the 110v heater version is great for use on building sites to provide low cost heating.

Tube heater is a very low-cost form of heating and has always been a great low-cost way to prevent and to cure damp that can occur in garage walls, inside cupboards or wardrobes and basements.

Our heaters are an efficient form of low-cost heating that can be used in the home greenhouses and industrial environments.

Tubular heaters are available in 6 sizes, 300mm through to 1800mm, with the option of combining two heaters side by side to double the output required you can be pretty sure that there is a solution to suit your needs.

Do you know that based on a cost of 14.5p per kWh a single 60W (1 foot) heater cost just 6.47 per month to run based on the heater being left on 24hrs a day for a whole month!

With most airing cupboards requiring just one 60W heater, it means that you can have a damp proof cupboard for very little money and it is also worth remembering that the Tubular heater can be controlled by either an electronic thermostat or a standard room thermostat so costs could be further reduced.

Tubular heaters

Made and tested and dispatched from the UK so you can be assured that you are buying the best quality heater for your home or work.

Heated Lockers

Total Locker Service use this specific tubular heater in the manufacture of their range of heated lockers.

Heated lockers are ideal when you have wet clothes that need drying. Staff cycling to work and outdoor workers all benefit from heated lockers.
Specification

Tubular heater installation

How much does it cost to run a tubular heater?

How much does it cost to run a tubular heater?

The tubular heater uses 60w/h per foot; 33.2p/kWh is the governments stated average unit price for electricitiy. divide your tarrif by the energy used to solve

Answer Link
---