Safes By Master Lock
---
Master Lock Valuable Safes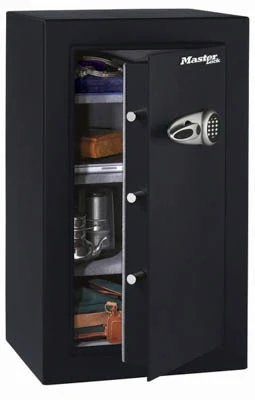 Click to enlarge
×

Delivery

Delivery Information

The approximate lead time is 5 Working Days.

Delivery to Mainland UK only, without any restrictions.

Our delivery times are; Monday - Friday 8am to 5pm.

We will deliver using the most economical method, using either our own vehicles or a carrier.

Goods may be palletised and delivered on an articulated vehicle.

The deliveries are kerb side only, you will need to arrange to unload the vehicle.

If there are any delivery restrictions / specific dates / times / dedicated deliveries, or FORS Registered deliveries; please contact the sales department as there may be an additional cost.
Features

Master Lock has a versatile range of Safes and is manufactured in 7 sizes; the volume of the safes ranges from 10 litres up to 170 litres in capacity.

Each Master Lock Safe has a carpeted interior to prevent damage to items stored within. The larger units incorporate adjustable shelves.

The smallest in the range is locked by a key, while all other models include an electronic lock. Master lock safes are designed to be bolted down. All Master Lock Safes incorporate fixing bolts as standard.
Specification

Specification sheet
Specification sheet
Specification sheet
Specification sheet
Specification sheet
Specification sheet
Specification sheet

---