Universal Locker Cam Lock
---
Lowe and Fletcher Universal Cam Lock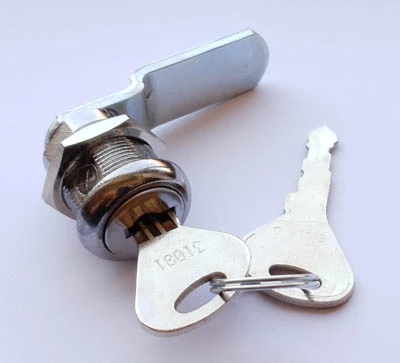 Click to enlarge
×

Delivery

Delivery Information

The approximate lead time is 5 Working Days.

Delivery to Mainland UK only, without any restrictions.

Our delivery times are; Monday - Friday 8am to 5pm.

We will deliver using the most economical method, using either our own vehicles or a carrier.

Goods may be palletised and delivered on an articulated vehicle.

The deliveries are kerb side only, you will need to arrange to unload the vehicle.

If there are any delivery restrictions / specific dates / times / dedicated deliveries, or FORS Registered deliveries; please contact the sales department as there may be an additional cost.
Features

Available with a wide variety of cams to suit the specifics of your locker system

Industry standard lock for Major locker manufacturer

Our universal cam locks are available nut fixed, making the locks incredibly versatile as they will fit any locker with a standard double D fixing hole. There is no need to worry about the position of the lock clip.

We stock a large range of cam locks though our universal cam lock will fit most lockers

This Lock Can be provided on your current Master series

This Lock is used by the following manufacturer:

Lowe & Fletcher series 95/97
Helmsman series 31/33
Probe series 36/38
Link
Garran

Need assistance? Call 01284 749211

---

If you need replacement locker keys we cut them on site and dispatch them the next day
Specification

Specification sheet


Locker cam lock

What is a cam lock?

A cam lock is a type of fastener that is often used for securing doors, such as those on lockers. It consists of a metal plate (the cam) that is attached to the end of the locking mechanism and rotates as the key is turned, securing the door in place.

How do cam locks work?

Cam locks operate through a simple mechanism. When the key is inserted into the keyhole and turned, it rotates the cam into position behind the door frame, securing the door in place. The key can then be removed, leaving the door locked until the key is inserted again and turned in the opposite direction to release the cam.

What are the dimensions of a typical cam lock?

The dimensions of a cam lock can vary depending on the specific needs of the application, but generally, the cylinder length might range from 16 mm to 40 mm. The cam arm length can also differ, ranging from around 25 mm to 50 mm.

How do I install a cam lock?

Installation typically involves drilling a hole through the door of the locker where the cam lock will be inserted. The cam lock is then inserted through this hole and secured with a nut on the inside of the door. The cam is attached to the end of the lock and rotated into position to ensure proper functionality.

Can I replace the key for a cam lock?

Yes, most cam locks allow for the key to be replaced. However, you may need to contact the manufacturer or a locksmith to obtain a new key, especially if the lock has a unique key pattern.

How secure are cam locks?

Cam locks offer basic security and are generally not recommended for high-security applications. They can often be picked or forced open with relative ease compared to more secure locking mechanisms like deadbolts or electronic locks. However, they are adequate for low-security applications like lockers.

Can I use one key for multiple cam locks?

It's possible to have multiple cam locks that operate with a single key, known as "keyed alike" locks. This can be convenient for situations where multiple lockers are used by a single individual or organization.

What materials are cam locks made of?

Cam locks are commonly made from materials like zinc alloy, brass, or stainless steel. The choice of material can affect the lock's durability, corrosion resistance, and overall appearance.

How do I maintain a cam lock?

Regular maintenance can extend the lifespan of a cam lock. This generally involves lubricating the lock cylinder and cam with a silicone-based lubricant to ensure smooth operation. It's also advisable to periodically check the lock for wear and tear and replace it if necessary.

The key advantage of using a cam lock with a key is its relative simplicity and durability. These locks do not rely on electronic components, which means they are less susceptible to technical failures and do not require power to operate. Additionally, they are often made of robust materials like steel or brass, providing a durable layer of security that can withstand physical wear and tear over time.

However, cam locks with keys do have their drawbacks. Lost keys can be a significant issue, requiring the lock to be replaced or opened by a professional, which can be both time-consuming and costly. Additionally, keys can be copied, presenting a potential security risk. Moreover, managing keys can become problematic in settings where multiple people need access to multiple lockers.

Overall, locker cam locks with keys offer a balance between ease-of-use and security. They are particularly useful in settings where electronic locks may not be feasible due to budget constraints or the lack of electrical infrastructure. While they may lack some of the advanced features of electronic or combination locks, their simplicity and reliability make them a viable choice for securing valuables.
All Locker locks
Cam Lock Page
L&F Page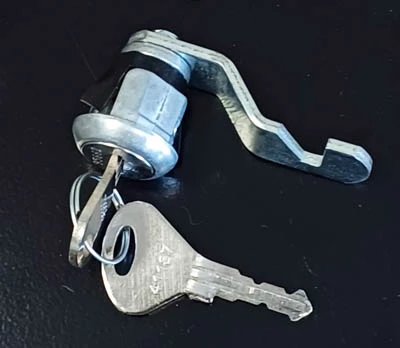 ---