Probe Locker Cam Locks With Two Keys
---
Lowe and Fletcher Cam Lock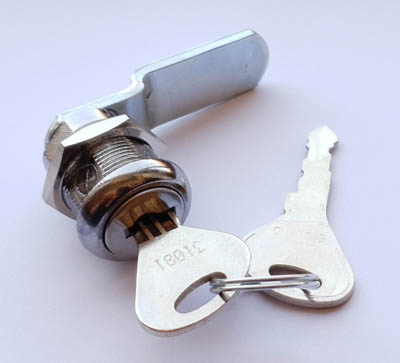 Click to enlarge
×

Delivery

Delivery Information

The approximate lead time is 5 Working Days.

Delivery to Mainland UK only, without any restrictions.

Our delivery times are; Monday - Friday 8am to 5pm.

We will deliver using the most economical method, using either our own vehicles or a carrier.

Goods may be palletised and delivered on an articulated vehicle.

The deliveries are kerb side only, you will need to arrange to unload the vehicle.

If there are any delivery restrictions / specific dates / times / dedicated deliveries, or FORS Registered deliveries; please contact the sales department as there may be an additional cost.
Features

Probe replacement cam locks with 2 keys

Probe locker cam locks with two keys. A replacement key lockers for Probe metal lockers.

Stocked for an immediate dispatch to the mainland UK.

We stock replacement Probe metal locker cam locks with two keys per lock.

The locks are on a 36/38 master code which is the same as your existing Probe lockers.

These locks are easy to fit as the lock is secured into the locker by a spring clip.

All you need to do is push the lock into the hole in the locker door and the clip opens behind the door and secures the lock.

If you need Probe locker number plates of key fobs, we manufacture and dispatch in 3 to 4 working days.

If you need assistance with your order, then please call 01284 749211 or email sales@totallocker.co.uk.
Specification

Specification sheet


Probe cam lock specification

Models: Probe lockers 1 to 6 door
Keys: 2 keys per lock
Series: 36/38
Mastered: Yes
Cam: Cranked with notch
Wet Specification: No
Handing: Right hand
---