Toxic Cabinets UK Compliant Free UK Delivery
---
Toxic Cabinets UK Compliant Free UK Delivery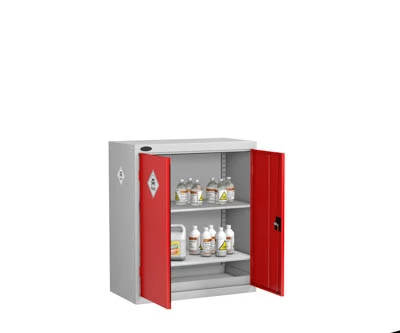 Click to enlarge
×

Delivery

Delivery Information

The approximate lead time is 15 Days.

Delivery to Mainland UK only, without any restrictions.

Our delivery times are; Monday - Friday 8am to 5pm.

We will deliver using the most economical method, using either our own vehicles or a carrier.

Goods may be palletised and delivered on an articulated vehicle.

The deliveries are kerb side only, you will need to arrange to unload the vehicle.

If there are any delivery restrictions / specific dates / times / dedicated deliveries, or FORS Registered deliveries; please contact the sales department as there may be an additional cost.
Features

This range of Probe Cabinets will allow Toxic materials to be clearly identified, handled and stored correctly.

All Cabinets feature:

Strong robust construction
adjustable shelves
Two point locking on all two door Cabinets
Removable 75mm sealed sump base tray
High visibility 270 degree labelling complying to BS5609

Probe Toxic Cabinets

Probe manufacture a rage of 4 specialised cabinets specifically designed for storing toxic substances. Each cabinet is supplied with a 75mm high sealed removable sump base tray. The sump try is designed explicitly to prevent seepage of toxic substances out of the cabinet.

The 4 lockers within the toxic cabinet range progressively increase in size. The smallest cabinet is 890mm high x 460mm wide x 460mm deep with a single door and two adjustable shelves. The next size up is a mid height cabinet with double doors 1015m high x 915mm wide x 460mm deep. The cabinet is supplied with a single adjustable shelf. Increasing in size is a full-size cabinet with double doors 1780mm high x 915mm wide x 460mm deep this cabinet is supplied with 3 adjustable shelves. Additional shelves are available for all Probe toxic cabinets. The largest cabinet in the Probe toxic range is the 8 compartment cabinet with a single divider and 3 adjustable shelves on either side.
Specification

Specification sheet


---

Toxic Cabinets

Low Toxic Cabinets

---

1 adjustable shelf
Width: 915mm
Depth: 460mm
Height: 1015mm

Small Toxic Cabinets

---

2 adjustable shelves
Width: 460mm
Depth: 460mm
Height: 890mm

Standard Toxic Cabinets

---

3 adjustable shelves
Width: 915mm
Depth: 460mm
Height: 1780mm

8 compartment Toxic Cabinets

---

6 adjustable shelves
Width: 915mm
Depth: 460mm
Height: 1780mm
---