Probe Medical Cabinets
---
Probe Medical Cabinets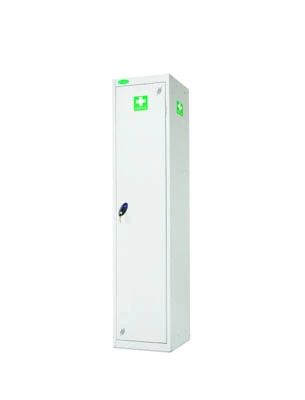 Click to enlarge
×

Delivery

Delivery Information

The approximate lead time is 15 Days.

Delivery to Mainland UK only, without any restrictions.

Our delivery times are; Monday - Friday 8am to 5pm.

We will deliver using the most economical method, using either our own vehicles or a carrier.

Goods may be palletised and delivered on an articulated vehicle.

The deliveries are kerb side only, you will need to arrange to unload the vehicle.

If there are any delivery restrictions / specific dates / times / dedicated deliveries, or FORS Registered deliveries; please contact the sales department as there may be an additional cost.
Features

Under the Health and Safety Regulations 1981, workplaces must have first aid provision.

To satisfy a wide range of first aid equipment we have designed an attractive and highly visible range of Probe Cabinets for your working environment.

Our medicine Cabinet Series come in a range of 7 sizes is designed to store and control your medicine supplies.

Featuring strong, robust construction. All Cabinets feature adjustable shelves able to sustain up to 85kgs, High visibility 270 degree labelling complying to BS5499-1, Reinforced doors for extra strength; additionally all two door Cabinets feature Two point locking

This extensive range of products should have a cabinet to meet your needs.

This medicine cabinet range consists of:

Wall mounted cube cabinet 460mm high x 460mm wide x 460mm high along with floor standing
Personal medicine locker 1780mm high x 460mm wide x 460mm deep
Small medicine cabinet 890mm high x 460mm wide x 460mm deep, low cabinet 1016mm high x 960mm wide x 460mm deep
Slim unit 1780mm high x 610mm wide x 460mm deep
Standard unit 1780mm high x 915mm wide x 460mm deep
8 compartment cabinet 1780mm high x 915mm wide x 460mm deep.

All products in this range are painted white with ActiveCoat TM powder paint for a hard durable bacteria free surface, a hard wearing anti-bacterial powder coating for the most stringent hygienic environment; This patent protected powder coating actively impedes the growth and migration of potentially harmful bacteria, mould, fungi, and algae reducing the risk of cross contamination.
Specification

Low Medical Cabinets

---

Cam lock supplied with 2 keys
Locker colour white
1 adjustable shelf
Dimensions
Width: 915mm
Depth: 460mm
Height: 1015mm

Low medicine Cabinets

---

Cam lock supplied with 2 keys
Locker colour white
1 adjustable shelf
Dimensions
Width: 915mm
Depth: 460mm
Height: 1015mm

Small medicine Cabinets

---

Cam lock supplied with 2 keys
Locker colour white
2 adjustable shelves
Product Dimensions
Width: 460mm
Depth: 460mm
Height: 890mm

Slim standard medicine Cabinets

---

Cam lock supplied with 2 keys
Locker colour white
3 adjustable shelves
Product Dimensions
Width: 610mm
Depth: 460mm
Height: 1780mm

Standard medicine Cabinets

---

Cam lock supplied with 2 keys
Locker colour white
3 adjustable shelves
Product Dimensions
Width: 915mm
Depth: 460mm
Height: 1780mm

8 compartment medicine Cabinets

---

Cam lock supplied with 2 keys
Locker colour white
6 adjustable shelves
Product Dimensions
Width: 915mm
Depth: 460mm
Height: 1780mm

Cube medicine Locker

---

Cam lock supplied with 2 keys
Locker colour white
Wall mounted with 1 fixed shelf, no fixings supplied.
Product Dimensions
Width: 460mm
Depth: 460mm
Height: 460mm

Personal medicine Locker

---

Cam lock supplied with 2 keys
Locker colour white
1 fixed top shelf
Product Dimensions
Width: 460mm
Depth: 460mm
Height: 1780mm
Specification sheet Return to Cabinets Page
---
---