Lowe and Fletcher Electronic Digital Combination Lock
---
Lowe and Fletcher 3780 and 3781 Combination Lock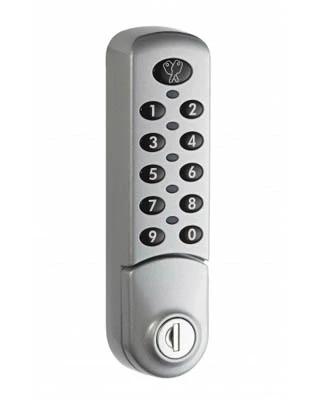 Click to enlarge
×

Delivery

Delivery Information

The approximate lead time is 5 Working Days.

Delivery to Mainland UK only, without any restrictions.

Our delivery times are; Monday - Friday 8am to 5pm.

We will deliver using the most economical method, using either our own vehicles or a carrier.

Goods may be palletised and delivered on an articulated vehicle.

The deliveries are kerb side only, you will need to arrange to unload the vehicle.

If there are any delivery restrictions / specific dates / times / dedicated deliveries, or FORS Registered deliveries; please contact the sales department as there may be an additional cost.
Features

L&F Electronic Digital Locks

Lowe & Fletcher's 3780 and 3781 combination locks represent a notable advancement in security solutions, offering robustness, versatility, and user-friendliness. These locks are primarily used in a variety of settings, including educational institutions, offices, and personal storage areas, where securing belongings is critical.

The 3780 and 3781 models, though similar in their core functionality, differ slightly in design and application. The 3780 is typically a horizontal model, suitable for a wide range of lockers and cabinets. In contrast, the 3781 is designed vertically, making it more suited for situations where space is constrained or where a vertical fit is more aesthetically pleasing or practical.

Both models are known for their ease of use. They employ a four-digit combination mechanism, which allows for a high number of possible combinations, significantly reducing the likelihood of unauthorized access. Users can set and reset their combinations with relative ease, a feature that is particularly beneficial in environments like schools or gyms where lockers may be used by different individuals at different times.

Durability is a key aspect of these locks. Constructed from robust materials, they are designed to withstand frequent use and resist tampering. This durability ensures a long lifespan, reducing the need for frequent replacements and offering a cost-effective solution for organizations.

Another advantage of the 3780 and 3781 models is their key override feature. In cases where a combination is forgotten or an emergency access is needed, a master key can be used to open the lock without damaging it. This feature is crucial for administrators in institutional settings, providing a balance between individual privacy and necessary access.

In summary, the Lowe and Fletcher 3780 and 3781 combination locks blend security, practicality, and durability. Their adaptable design makes them suitable for a wide range of applications, while the combination mechanism offers a secure yet user-friendly solution. Their robust construction and key override feature further add to their appeal, making them a reliable choice in the realm of security solutions.
Specification

Specification sheet
Combination lock 3780CDL


Lock 3780 dry electronic combination

Dry spec electronic combination lock features

Dry specification lock
Standard finish: Black, silver or white
Fixing options Vertical, left or right hand
User modes: Public mode, private mode, technician mode
RAS avalable on request
User codes: 8-digit master code
6-digit sub-master code; 4-digit user code
Spindle length: 20mm or 24mm
Steel override key
Up to 50,000 cycles per pair of batteries
2 x AA batteries (included)
Auto unlock mode

Lock 3781 wet specification electronic combination

Wet spec electronic combination lock features

Wet specification lock
IP55 rated
Standard finish: Black, silver or white
Fixing options Vertical, left or right hand
User modes: Public mode, private mode, technician mode
RAS avalable on request
User codes: 8-digit master code
6-digit sub-master code; 4-digit user code
Spindle length: 20mm or 24mm
Steel override key
Up to 50,000 cycles per pair of batteries
2 x AA batteries (included)
Auto unlock mode
---