Locker Number Plates For Helmsman System Lockers
---
Helmsman locker number plate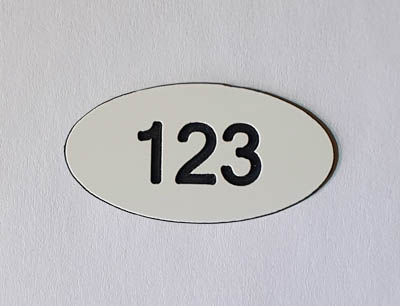 Click to enlarge
×

Delivery

Delivery Information

The approximate lead time is 1 working week or less.

Delivery to Mainland UK only and without any restrictions.

Our delivery times are; Monday to Friday 8am to 5pm.

We will deliver using the most economical methods.
Features

Helmsman oval locker number plates

This number plate is specifically designed to fit the Helmsman Leisure locker escutcheon.

The number plates are available in white or black laminate and can be a combination of letters and numbers.

We at Total Locker Service manufacture all our laminate locker numbers from from premium ABS engraving laminate.
Specification

Specification sheet


Laminate locker number plates

Specifically designed for Helmsman System 2000 swimming pool lockers
Manufactured from 0.8mm engraving laminate
39mm long x 20mm high
choice of 4 number or letter combinations
Colour choice, white or black
Dimensions To fit helmsman leisure locker number plate holder.
---