Modular Cube Storage Lockers
---
Cube lockers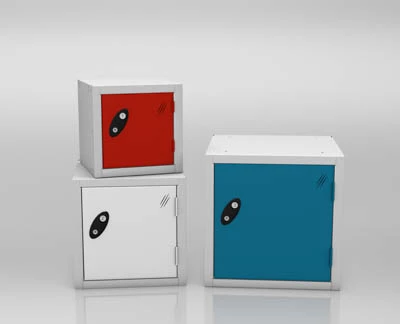 Click to enlarge
×

Delivery

Delivery Information

The approximate lead time is 20 Working Days.

Delivery to Mainland UK only, without any restrictions.

Our delivery times are; Monday - Friday 8am to 5pm.

We will deliver using the most economical method, using either our own vehicles or a carrier.

Goods may be palletised and delivered on an articulated vehicle.

The deliveries are kerb side only, you will need to arrange to unload the vehicle.

If there are any delivery restrictions / specific dates / times / dedicated deliveries, or FORS Registered deliveries; please contact the sales department as there may be an additional cost.
Features

Cube lockers for Primary Schools

Our modular cube storage lockers are a great solution for storing small items securely.

Bolt them together, mix the colour doors - deal for storing books, clothing and shoes

Probe CUBE Locker have the following features:

Heavy gauge mild steel frame with doors equipped with two five-knuckle, semi-concealed hinges for a solid, secure storage solution.
Modular design in 3 sizes 305mm, 380mm and 460mm Cubes - Easily bolted together to fit any space
5 Locking options - Key, Hasp and Staple, Mechanical, Electronic combination or Coin Operated
The Hasp and Staple Lock is often used as a handle in Infant Schools where locking is not needed
7 door colours and 3 body colours to choose from all with anti-bacterial paint
Optional locker support stands to raise locker 150mm above floor level
Nuts and bolts are supplied with the lockers.

For extra peace of mind, we offer an after-sales service to give you any support and advice you need with your lockers.

What's great about these cube metal lockers is that you can create the storage space you want by stacking several together

Each cube is drilled on the sides, top and bottom so you can bolt several of them together to suit your storage needs.

Designed to go almost anywhere and fit neatly in the smallest spaces, you can use as many cubes as required to make the most of areas that aren't being used.

Identify stored items easily

Our products come in a range of colours so you can identify them easily.

The doors are fitted with a handy plastic plate around the lock, which can be used as a number holder or name card.

This means if you run out of coloured storage cubes, you can still label them for easy identification.

No more will you forget what's stored where or who the locker belongs to.

If you're after cube metal storage lockers for your school or business, contact our friendly staff for more information.
Specification

QUARTO LOCKER

| Height | Width | Depth |
| --- | --- | --- |
| 480 | 305 | 305 |
| 480 | 305 | 460 |

Sloping tops not available on this product

CUBE LOCKER

| Height | Width | Depth |
| --- | --- | --- |
| 305 | 305 | 305 |
| 380 | 380 | 380 |
| 460 | 460 | 460 |

Sloping tops not available on this product
Probe Cube Lockers
---