ASSA Mechanical card Lock for Locker Doors
---
ASSA Card Lock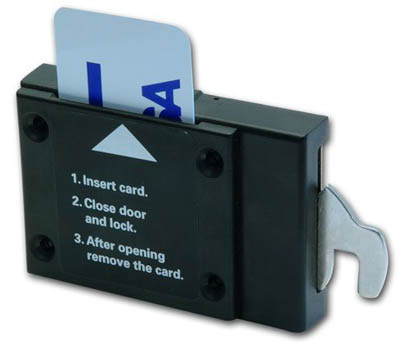 Click to enlarge
×

Delivery

Delivery Information

The approximate lead time for ASSA card locks is 3 working weeks.

Delivery to Mainland UK only, without any restrictions.

Our delivery times are; Monday - Friday 8am to 6pm.

We will deliver using the most economical method, either using a carrier.

Goods may be palletised and delivered on an articulate vehicle. The deliveries are kerb side only, so you would need to arrange to unload the vehicle.
Features

Assa card lock

Hole punched cards will give access to lock with keys. The lock can be made to accept one hole punched or two hole punched cards.

On request, when assembling the lock for one hole punched cards, 4 different located card codes are available and for two hole punched cards, 20 different card codes are available.

The lock is made for use in wet areas:

Lock case of polycarbonate
cylinder of chromated brass
keys and hook bolt of chromated brass
keys and hook bolt of nickel plated brass.
Desmo keys of nickel silver.

---
Specification

Specification sheet

---